The Pretty Spring Heels I've Been Waiting Months To Wear
Grosescu Alberto Mihai/Shutterstock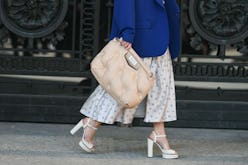 Don't get me wrong, I love sweater season. But, by this point in winter I'm ready to bid the chill adieu. The novelty of my cold-weather footwear — boots included — has worn off and my feet are more than ready to tread on something lighter and brighter. Luckily, the dawn of a new season is just weeks away and I can finally fill my closet with the spring heels I've been lusting over but haven't dared to actually invest in just yet.
During the colder months, footwear is purely practical, keeping me comfortable and protected as I brave inclement weather. Now that things are shaping up, I'm ready to add a little spring in my step (literally) and road test the trends I've been waiting to try since I first spotted them on the Spring 2019 runways months ago. And while the rainy Los Angeles weather has confined me to wearing my new shoes solely around the house a bit longer, I just couldn't resist giving my boot-clad feet something to look forward to.
One of my favorite trends of the season was first spotted on the Spring 2019 runways of brands like Valentino and Simone Rocha: feathers. Utilized along the straps and heels alike, colorful plumage in all shapes and sizes stood out to me immediately as a style to try. I love the idea of a dainty, strappy stiletto heel with dramatic feathery detailing decorating my feet. In typical Carrie Bradshaw fashion, I feel this trend is perfectly paired with loose-fitting straight-leg jeans and an oversized white Oxford blouse. It's classic with a twist. And though feathery heels are definitely best reserved for situations when weather doesn't threaten to ruin them, they are the perfect statement shoe to break out for special occasions.
Another trend that I debated over a bit before finally coming around to is the platform wedge sandal. To me, the current styles are reminiscent of the sky-high platforms that the Spice Girls made popular in the late '90s. As seen on the Spring runways of Gabriela Hearst and Michael Kors, these statement sandals look ultra-luxe thanks to embroidery, rich leathers and suedes, and metallic detailing. One added benefit of platforms: they're surprisingly comfortable to walk around in.
Now, to be clear, sandals are not the only style I'm looking forward to this season. Classic, year-round staples like heeled loafers and closed-toe mules are also on my shopping list for the months ahead. For spring, brands are revamping these signature shapes by adding pretty bows and buckles that provide a fresh feel to these everyday styles — perfect for work dinners and laid-back weekend brunches. On days when that feathery statement heel is just too much, these styles lend a slightly more polished vibe to my easy breezy spring ensembles.
Ahead, shop for more of the footwear I'll be investing in as the temperatures continue to creep up. Now, you'll be able to get a jumpstart on your spring shoe shopping too.