These New Bags At Net-A-Porter Are Proof The Beaded Bag Trend Isn't Going Anywhere
Net-A-Porter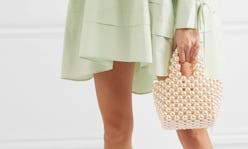 Attention handbag lovers: If you haven't already heard, beaded purses are still going strong. While yes, they've been taking over your Instagram for a while, the new arrival of Vanina bags on Net-A-Porter are just further proof that they're here to stay. And now, they're getting an elegant twist.
The ongoing popularity of the beaded bag trend is no doubt thanks to its photo-worthy nature — after all, it's basically made for social media with its typically bright colors and playful nature. And thanks to the creations of cult-favorite pieces like Shrimps' Antonia bag and Susan Alexandra's fun, fruity purses, the excitement has been going for years.
And with Vanina's new collection on the scene, it's clear that there's never been a better time to adopt it. The purses, which recently landed in Net-A-Porter's new arrivals, include eight beaded styles, from larger totes to tiny belt bags. And the line doesn't just stick to one type of bead — you have your pick from materials like pearls, wood, and glass embellishments. So if thought of beaded bags as too playful before, prepare your wallet: The grown-up version has now arrived, and you're going to want it immediately.
These elegant bags aren't just for special occasions, either; in fact, their sophistication gives your everyday outfits the perfect amount of juxtaposition. Just add any of these statement pieces to a t-shirt and jeans and you've got a simple, foolproof outfit that's right on trend.
Not familiar with Vanina? Named after a '70s French pop song, the brand was founded by childhood friends Tatiana Fayad and Joanne Hayek. And though it originally started as a jewelry line in 2007, it quickly grew into accessories and apparel. But while the brand has been around for over 10 years, it's still relatively under the radar. However, last month's launch on Net-A-Porter is proof that it's one to take note of.
Ahead, see the beaded styles from Vanina that just launched on Net-A-Porter that promise some serious arm candy — and good luck trying not to buy them all.