All The Best Bags In Moda Operandi's Trunkshows To Look Forward To Wearing This Fall
Moda Operandi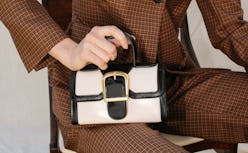 As hard as it may be to believe, July will be over in a matter of weeks — which marks the official beginning of the end (of summer, that is). And you know what that means: Fall — along with its fashionable trends — is just around the corner. Though chances are you're still enjoying the bright and sunny days of summer, if there's anything that can get a fashion lover excited for an upcoming season, it's the excitement of new arrivals. And thankfully, there are a ton of chic new bags in Moda Operandi's trunkshows to look forward to.
If you were keeping track of the biggest trends seen on the runways during Fall/Winter 2019 fashion week, then you've probably already determined which ones will be joining your wardrobe come September. Of course, once you have your favorite fall trends in your closet, you're going to need a stylish bag to put the finishing touch to your ensembles. And with the online retailer's trunkshows, you can start shopping for your favorite ones now.
Perhaps you've already shopped from one of the Moda Operandi's trunkshows once or twice. But just in case you haven't, think of it as a way to shop before the next season arrives. According to the luxury retailer, its trunkshows allow you to shop from designers' collections before select pieces go to retailers. Once you place an order, you'll pay half of the price upfront. And at the beginning of the new season, you'll pay for the remaining half as soon as your piece ships.
For those of you who like to keep a finger on the pulse of emerging designers, Moda Operandi's trunkshows are a great way to discover them while you shop. Plan your fall ensembles with an added pop of color by wearing this ONESIXONE Gaia Small Leather Bag, which costs $710 and comes in nine different colors — including slime green. Or, if you want something more boxy, opt for one of Nancy Gonzalez's bags, such as the $1,450 Sammy Crocodile-Trimmed Raffia Top Handle Bag.
If you want to add a classic, vintage-inspired option to your collection, go with Rylan's $555 Two-Tone Mini Leather Bag. Whether it's with a button-down and jeans during the day or a mini dress for a night out, there's no doubt this bag will go with everything you own. Another sleek, timeless option is the Small Lizard Top Handle Bag from Hunting Season, which is available for $1,325 and can be styled with all your fall office looks.
Get a head start on shopping and scroll down below to see more bags from Moda Operandi before these trunkshows end.