You Only Need 3 Pieces To Copy This Super-Chic Valentine's Day Look
Cornel Cristian Petrus/Shutterstock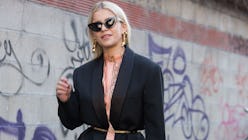 You probably found yourself rolling your eyes when you saw the Valentine's Day promotions popping up on Jan. 2 — it always feels kind of silly to start planning for the next holiday when you only *just* recovered from the chaos of December. As much as no one wants to admit it though, retailers kind of have it right... because once you return to work and get back to your everyday life, you probably blinked and realized it was already well into February and you hadn't planned anything for the next holiday on the horizon. It's fine, though: Whether you're working with a few days or even a few hours to get the perfect outfit together, some last-minute Valentine's Day outfit inspiration is all you need to help you create the ideal look for your romantic night out.
Everyone has their own idea of the perfect date night — and the outfit to match. Maybe you're the kind of person who likes to stay in, or maybe you love planning an elaborate evening out. Whatever the case, there are looks below with every kind of night in mind. Ahead, eight last-minute Valentine's Day outfit ideas that prove you don't need to plan ahead to create the perfect date-night look, even for the fanciest occasion.
All Black (With A Hint Of Bling)
A fancy dinner doesn't have to require an elaborate (or freezing) look. Instead, copy this three-piece look and pair your most simple black dress over leggings and add a pair of bedazzled heels.
A Lilac Look & Red Boots
Take a break from the classic red dress for your date night this Valentine's Day and go with head-to-calf lilac instead. A pair of red booties provide the perfect pop.
Head-To-Toe Monochrome Pink (With A Hint Of Neutral)
You can keep things casual without completely ignoring the holiday. Take cues from this look and pair pink pants with a lighter coat; an interesting, neutral turtleneck underneath will provide just the right amount of contrast to the overly-sweet look.
All Black & White
There's no reason you have to wear red on Valentine's Day; you can still create a look that feels romantic and fun without bright colors or frills. A pair of printed tights will do the trick, and paired with a trench, feels sophisticated without being stuffy.
A Leopard-Print Slip Layered Under Lavender
A dinner at home is the perfect excuse to dress up without having to go all out. Layer a simple cardigan over a leopard slip dress or skirt for a look that's casual, but still dressed up.
Leather & Lace Paired With Pink Satin
Your movie date requires something comfortable, but that doesn't mean you can't insert a fancy piece. Opt for a roomy pair of leather pants and a turtleneck, and throw a satin tank over top for that Valentine's Day pop.
Hot Pink Paired With Red Plaid
You can be totally casual and still create a look that feels romantic — and this look is proof. If you're planning on spending some time outside, layer a red plaid blazer or coat over a hot pink sweater, and throw on bright white boots for a pop of contrast.
Neutrals With A Pop Of Red
Need a look that transitions from drinks to dinner to whatever else the night brings? A neutral, oversized blazer paired with bright red boots feels chic, fancy, and perfect for Valentine's Day.