The Best Affordable Basics Brands To Shop The Next Time You Need To Stock Up On Essentials
Everlane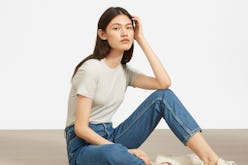 At the heart of every wardrobe is a collection of elevated basics. You know the ones: Easy staples you can wear year after year without a second thought. And while vibrant prints and head-turning embellishments can always make for a sartorial statement, there's something to be said about tried-and-true classics that will remain chic without fail. Of course, when you plan to stock up on clothes you'll wear every day, spending a pretty penny is never ideal. Luckily, there are a handful of cheap basics brands making timeless essentials to build your wardrobe without putting a major dent in your bank account.
Whether it's a perfectly soft cotton tee, a classic oxford shirt, a pair of blue jeans, or an effortless wrap dress, a full roster of basics — as every fashion lover knows — is vital to any closet. After all, some of the most impactful ensembles involve a curated selection of core staples.
If you're looking to add a new set of stylish essentials to your closet, scroll down below to see eight brands who have mastered the art of everyday pieces. From well-established companies such as Everlane and Madewell to brands floating quietly under the radar, these brands have the basics you won't want to stop wearing.
Lou & Grey
Lou & Grey has a range of stylish and comfortable pieces that includes classic pieces such as sleek knitwear and office essentials to more trend-forward items like easy jumpsuits.
Everlane
You can always count on Everlane to have a number of quality classics. The direct-to-consumer brand has nailed the perfect t-shirt, as well as any other basic pieces you could be looking for.
Oak + Fort
At Oak + Fort, you'll find chic suiting to wear to add into your work wardrobe as well as oversized sweatshirts and tops to wear on your days off.
Warp + Weft
Size-inclusive denim brand Warp + Weft has under-$100 styles ranging from timeless skinny jeans to cool wide-leg styles that are perfect for spring and summer. To top it off, these pieces come in a wide variety of washes and colors to choose from.
Madewell
More likely than not, you're already familiar with Madewell. The clothing brand carries everyday staples like button-down shirts and chambray dresses to put you in the mood for the warm weather ahead.
Kotn
Kotn offers ethically made basics made using Egyptian cotton. And when you shop from the brand, you're also helping the company provide funding for schools in the Nile Delta, the area where its cotton is sourced.
Entireworld
Entireworld has a full selection of easy basics like T-shirts, tank tops, sweatpants, and more. Once you put these pieces on, you'll never want to take them off.
Grana
If you want to shop for chic, simple, and elevated staples, you can't go wrong with Grana. With a handful of under-$100 options available, the brand will easily be one of your go-to shops for basics.