These Beauty Brands Are Making Hand Sanitizer And Donating It To The Frontlines
Courtesy of Tan-Luxe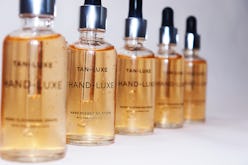 "Unprecedented" is a word that comes up regularly these days, but it means something different to every industry. To beauty, it means brands producing hand sanitizer to donate to medical personnel and authorities.
As coronavirus continues to weave its path of destruction across the world, global shortages of hand sanitizer are making it even more difficult to get the pandemic under control. Companies that have the means to produce hydrochloric gel have received encouragement — if not pleads — to do so by the American Food and Drug Administration.
So while couturiers have turned their attention to making masks and hospital gowns in mass quantities, perfumiers and skincare brands are addressing the need for hand sanitizer in these health facilities. The movement is led by luxury goods conglomerate LVMH—parent company of Dior and Givenchy — who announced on March 15 that it would temporarily use its fragrance facilities to mass produce sanitizer for the French authorities.
It wasn't long before huge companies like Estée Lauder, L'Oréal, and Coty Inc. followed its lead. Even smaller beauty brands like Cirem and Tan-Luxe are pitching in. Ahead, eight companies that are producing hand sanitizer and donating it to those in need.