7 Trendy Haircare Brands That Make Your Strands Look As Good As Your Instagram
ANDREW MORALES/WWD/Shutterstock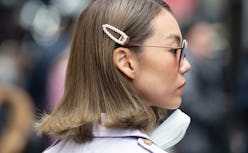 Long gone are the days of hair care playing second fiddle in the beauty community. These days, trendy haircare brands take up just as much space in the industry as makeup and skin care — something you've probably realized while scrolling through your feed on Instagram. And while it may feel like it's hard to keep up with the influx of new brands and products, living (and shopping) in the social media-influenced age of beauty actually works out for your benefit: It's easier than ever to find out which brands you should keep on your radar.
There isn't one reason a haircare brand ends up with cult fame nowadays, either; which means you can find one that speaks to your own personal aesthetic. Some trendy brands are sleek, timeless, and understated — while others pack in the color. Nevertheless, each of the seven brands listed below are as powerful as they are Instagrammable. So, continue scrolling, take your pick, and find a new haircare brand you may've never heard of before. Most likely, your hair will thank you.
1. Living Proof
Landing on the haircare best-sellers page at Sephora and Ulta, Living Proof's genius products are as understated as they are clever. Packaged in minimalist bottles and cans, the brand's hair care is rooted in science, finding new solutions that don't use silicones, parabens, or phthalates.
2. R+Co
There's something quintessentially cool about the vegan haircare brand R+Co. It could be because its products are dreamed up by a collective of stylists and haircare industry veterans. Or, it could be the fact that its easy-to-use products solve complex hair problems — such as its new detangling, styling, and moisturizing CENTERPIECE spray.
3. IGK
IGK is the haircare brand to shop if you feel like your routine is missing something, but you aren't quite sure what that something may be. The brand's unique haircare products — like its spirulina protein treatment, leave-in toning drops, and setting spray-inspired hairspray — have won it a coveted spot in the beauty community.
4. Kristin Ess
If you frequent the online haircare stratosphere — or shop at Target — you've probably heard of the brand Kristin Ess. Known for giving fans great results at affordable prices, the accessible brand is lead by the celebrity stylist Kristin Ess herself.
5. amika
Colorful and happy, amika's haircare products have achieved cult status since the brand was created in 2007. Even better, the luxe brand doesn't come with a hefty price tag: Many of amika's best-sellers retail for just $25 a pop.
6. SACHAJUAN
Clean. Simple. Impeccably designed. These seem to be the core tenants of SACHAJUAN, a minimalist luxury brand with a no-nonsense approach to hair. The line's packaging is noteworthy, too — even its Scalp Shampoo is worthy of a quick snapshot on Instagram.
7. OUAI
Another fan favorite, OUAI's haircare products offer luxurious results at budget-friendly prices. The brand seems to understand what consumers want, and balances being trendy with a classic, effortless aesthetic (which isn't surprising, since it was founded by celebrity stylist Jen Atkin.)