7 Sweater And Skirt Styling Ideas That Will Convince You To Break Up With Jeans This Fall
Shutterstock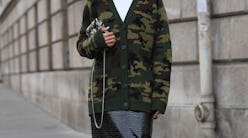 In the plentiful realm of outfit combinations, there exists a modest handful of pairings that are consistently and reliably successful. T-shirts and jeans are a no-brainer. Blazer and slacks? Always a winner. And, when it comes to the cozier side of the spectrum, sweater and skirt outfits are hands down the top choice. The beauty of this unassuming duo is that it doesn't require buying a handful of trendy, new pieces. You inevitably already own the necessary knitwear and skirts, therefore, the only task that remains is to experiment with various tops and bottoms while adding in accessories to polish things off.
Though this may seem like an especially simple coupling, sometimes an easy option is what you need to avoid the leggings and jeans rut that arrives with the short days and cool temps of fall. Arming yourself with a few simple yet inspired outfit ideas helps to keep your wardrobe lively and inspired throughout the frigid months of the year. Ahead, see seven street style-inspired ways to wear a sweater with a skirt right now. And, should one of the formulas pique your interest, be sure to shop the picks to achieve the easy fall outfit as part of your own wardrobe.
Play With Prints
It's a style trick that's been around for ages but still always manages to procure an interesting feel for your outfit: mixing and matching prints. When it comes to a sweater and skirt combination, you can approach the tip by wearing a top and bottom in the same print (as shown above with polka dots) or pair two opposing patterns together, like stripes and plaid. If the duo ends up looking disjointed, consider adding in a neutral layer, like a trench coat or denim jacket, that usually does the trick.
Evening Out Approach
Sure, a sweater and skirt combination is a smart option for an office environment but it also happens to translate quite well to an evening out. To pull it off, try a knit with an enticing neckline (like one-shoulder or cutout) and pair with a splashy skirt. Add in your favorite heels or boots to finish.
Go For A Color Scheme
If you're stuck on what sweater to pair with which skirt go back to the basics and think about color. Grab pieces in complementary color families (it's ok if they don't perfectly match; in fact it's better if they contrast a little) and finish with accessories that pop.
Lean Into Fall Patterns
Now that summer is officially over, it's an appropriate time to introduce new patterns into your repertoire, like Fair Isle and plaid. Sure, florals are acceptable year-round, but it can feel all the more festive too add in something seasonal as well.
Tune In For Tonal
Consider a tonal skirt and sweater pairing the equivalent of wearing a suit: it's chic, low-effort, and always stylish. Simply add your favorite bag and footwear and the work is done.
Wear A Pop Of Color
When in doubt, a neutral skirt styled with a sweater in a pop of color is an easy, stylish route to go. Instead of black, consider an ivory or beige skirt for a fresher take on the combination.
Layer On A Cardigan
Err on the slightly collegiate side and wear a cardigan over a tissue-thin turtleneck. Below, try a leather (or faux) skirt and your favorite pair of heels or loafers.