Carrie Bradshaw Would Be Obsessed With This Fall 2019 Shoe Trend
Shutterstock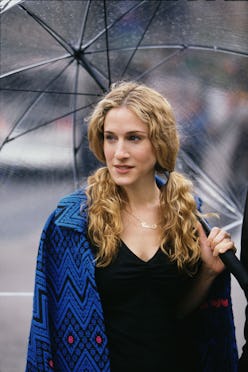 I've always had a tough time bidding farewell to summer. I spend all of August desperately clutching onto beach days, acutely aware that the end is near. I'm sure my California upbringing is partially to blame (along with my unwillingness to give up Summer Fridays). Fortunately, the change of season brings with it a slew of fresh new trends, making the parting slightly easier. While the runway is a good indicator of trends to come, I find Instagram is a better predictor of what will actually stick. So what have I been noticing lately? An onslaught of fall shoe trends.
As TZR's Senior Social Editor, it's partially my job to pick up on what's continually popping up among the fashion crowd. Chalk it up to countess hours spent scrolling the app, but I know a burgeoning Instagram trend when I see one. These three footwear looks keep appearing over and over again, so it's safe to assume their popularity will only continue to grow.
Unlike chunky knits or leather trousers, the foray into fall footwear can begin while summer's still in session. And since I've never been a huge sandal person (contrary to my California roots), I'm always particularly keen on finding a closed-toed alternative come August. While boots are always top of mind, I'm also on the lookout for flats that can withstand a considerable amount of walking. And, as I become increasingly more mindful about my own consumption, I aim to only invest in styles that'll last beyond a season.
So, without further ado, scroll on for the three fall shoe trends I've seen all over Instagram (and think are worth shopping ASAP).
Mary Janes
While the silhouette is classic, there's something decidedly playful about Mary Jane shoes. They're an easy Parisian-inspired alternative to your classic flat or heel, and add a bit of flair to an otherwise simple look. I'm excited to pair mine with dresses, and look forward to layering them underneath ornate socks and opaque tights. I'd also imagine that 2019 Carrie Bradshaw would fully endorse the trend, especially these embellished Miu Miu heels.
Chunky Oxfords
I can't wait to embrace the newest "ugly" shoe trend, and imagine that the chunky oxford will replace summer's heavily-coveted sports sandal. I love the idea of styling the shoe with lightweight, dainty dresses for the near future, a very '90s combo that's already proven popular amongst the fashion set. I'll also be pairing mine with with oversized suiting and straight-leg denim once the weather permits. These shoes happen to be incredibly practical, and I know that the lug sole will come in handy once a slushy winter day finally arrives.
Square-Toe Boots
Square-toe heels were everywhere this summer, and it won't be long before boots take over as the next big thing. While I typically opt for black ankle boots, this season I'm excited to play with new hues and textures. Since the style itself is rather minimalistic, it lends itself to more experimentation. In addition to midi-length dresses, I'll be pairing mine with all of the vintage-inspired denim styles taking hold for fall.