7 Moody Nail Trends To Try For October 2019
@j.hannah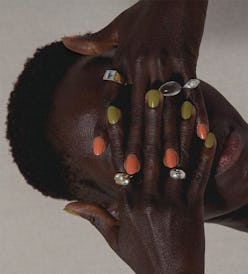 More than any other season, autumn is an aesthetic. Think: cable knit sweaters, spooky Halloween motifs, everything pumpkin-hued, and so. much. plaid. Thankfully, not a single one of the October 2019 nail designs pros are predicting play into those tropes. The seven looks below are seriously unexpected — and very, very chic.
Read more: Negative Space Manicures For Spring Are So Trendy & Just As Easy To DIY
"I just painted a chocolate brown negative space design on Beanie Feldstein," Miss Pop, a celebrity and editorial nail artist (who also created the manis on the latest Oscar de la Renta runway), tells The Zoe Report. "So luxe, so ethereal, so not boring!" Brown isn't only warm-and-toasty polish option for the month ahead. Betina R. Goldstein, editorial manicurist and creator of Doublemoss Jewelry, says that rust, copper, and even mustard nails are about to be everywhere. "These fall color palettes are perfect for the weeks leading up to sweater weather," she tells TZR. Follow her lead and let your seasonally-appropriate polish peek out from the sleeve of a long, cozy cardigan. (Honestly, I can picture the likes pouring in on that Instagram shot now. You're welcome.)
Ahead, discover the seven must-try main trends for October — from the coolest (read: warmest) shades of polish, to the experimental nail art inspired by Fashion Month.
Emerald Green
Love a jewel tone? You're in luck. "I definitely feel we are going to see different shades of green, including deep emerald tones," Goldstein says.
Colorful French Mani
"French manis were all over the runway in New York this fall," Miss Pop says. "But it wasn't the classic pink and whites — these French manis were colorful and modern." The artist created two takes on the French for the Oscar de la Renta show: "The first twist on the French was done in coral nail polish (c/o Zoya Sawyer) with a very curved line at tip to highlight the oval shape of the nails, and a dot down by the cuticle. The second French was an ombré that went from creamsicle (c/o Zoya Arizona), to coral (Zoya Sawyer), to pink (c/o Zoya Laurel)."
Shades Of Falling Leaves
"Choosing a solid color or orange or brown is reminiscent of fall," Jackie Saulsbery, a manicurist who works with Adele and Queen Latifah, tells The Zoe Report. Goldstein adds "burnt oranges and rusty reds" to the mix, and loves "deep metallic hues of gold and copper, as well." Basically, any color that looks like it could've been plucked from a fallen leaf is fair game.
Matte Black French Mani
"This year I expect to see matte black nails with shiny tips for a spooky spin on fall's hottest nail trend: the French manicure," Mazz Hanna, a celebrity nail artist who works with Emma Roberts, tells The Zoe Report. Goldstein agrees: "Matte x gloss was big during NYFW," she says. Hanna recommends covering the tips of a high-shine mani with Orly's 1/2 Moon Guides and swiping the brand's Matte Topcoat over the rest of the nail to get the look at home.
Pearl-Encrusted Nail Art
You may have seen pearl-topped nail art in editorials already, but October is the time to try it for yourself. "I recommend solid, winter white — I personally love Iceberg from Gabriel Cosmetics — and top it off with a matte finish," Saulsberry says. "If you enjoy a little edge, I like to add pearls to compliment the look."
The New Nude
"Forget matching your nails to your outfit or your skin tone," Miss Pop says. "I've got a new nude idea for you: This fall, match your nail color to your hair color. It's the perfect way to enhance your natural beauty and warm things up for the season."
Picasso-Esque Body Parts
Fashion girls everywhere have taken to painting their fingertips with Picasso-esque figures — and for October, the sometimes-NSFW look takes on a whole new meaning. "Breast Cancer Awareness Month starts in October, but it is important to remember to always get checked," Goldstein captioned an Instagram featuring nail art of the female form. "Early detection and education can save lives."