The Throwback Couples Costume Every '90s Kid Will Love
Moviestore Collection/Shutterstock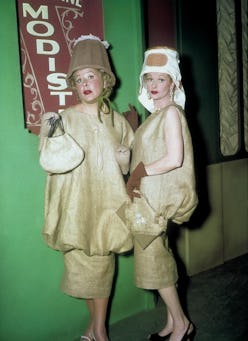 The countdown to Halloween is on, which means you've only got a few weeks to come up with your own creative costume. Finding yourself something original and worthy of praise to wear is one thing, but what do you do when you've got a partner in tow (and you want to go the couples costume route this year)?
In terms of inspiration, options can range from super silly (peanut butter and jelly, anyone?) to totally chic (Posh and Becks are never a bad option, to be honest) duos. But who better to serve as inspiration for you and your significant other than the iconic pairs from your favorite movies and TV shows? Maybe you and your honey have a favorite series you love to binge watch or a flick you saw on your first date. Or perhaps there's just always been a fictional couple you identified with? Whatever the case, dressing up as a timeless dynamic duo can be both fun and fairly easy. And when you're able to pull pieces from your own closets or your local thrift shop to do so, it's also pretty affordable.
If you're in need of some assistance in finding an iconic couple to emulate this Halloween consider these unforgettable pairs (some romantic, and some not — but all completely canonized) that even your hard-to-convince cohort will cosign on.
Gomez and Morticia Addams
Channel your inner goths — and turn up the romance — by going as this PDA-loving, spooky couple. For Morticia, grab a long black wig and plunging black dress, and for Gomez, a slicked-back 'do, faux mustache, and pinstripe suit, and you're golden.
Cher and Dionne
If you and your S.O. want to relive the wonder that was the '90s, channel the BFF duo that basically defined them. Throw on matching plaid ensembles and thigh-highs, snag some old-school flip phones, and go as this truly iconic pair — Clueless' real power couple.
Harold and Maude
Vintage-loving couples will appreciate the wardrobe options for this classic May-December couple from the eponymous — and cult favorite — film. Maudes should try to copy the character's signature braided updo plus perhaps the addition of some wrinkles with a little clever makeup (she was 79, after all) and both of you should devote your costume hunt to finding some stellar 1970s jackets to complete the transformation.
Wayne and Garth
This Wayne's World dream team is perfect for 1990s aficionados. Add a few wigs, a pair of glasses, a ball cap, and a flannel or two, and you'll be in business.
Mia Wallace and Vincent Vega
The iconic couple at the center of 1994 film Pulp Fiction is actually pretty easy to copycat. For Mia, a white collar shirt, black pants, and a sharp black bob are all you need, and for Vincent, a suit and slicked-back ponytail will do. You may also want start brushing up on your dance moves.
Zack Morris and Kelly Kapowski
It's hard to think of a more iconic 1990s couple than Saved By the Bell's Zack and Kelly — regardless of their on-again-off-again status. The two of you can go full force with the nostalgic wardrobe options, including (but not limited to) scrunchies, mini skirts, off-the-shoulder sweatshirts, and jean jackets. Bonus points if you can track down a brick phone like Zack's.
Lucy and Ethel
If you and your S.O. are comedy queens or always finding yourself in ridiculous situations, then these I Love Lucy besties are the pair to be for Halloween. To get their looks you'll need a curly red wig, 1950s dress, and perfectly crimson pout for Lucy, and a short blonde 'do and house dress for her cohort. You can also don matching chef's hats and factory uniforms to recreate their notorious candy-making episode.