The Swimwear Brand You'll Love If You're Obsessed With Solid & Striped
Anemone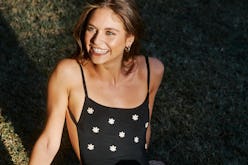 While it may seem like spring just got here, in a short amount of time summer will be in full swing, which means it's time to start shopping for your summer swimwear. As you start scrolling through your Instagram for poolside inspiration, you've probably come across a Solid & Striped swimsuit at one point or another. And while you can always bookmark the label for its tried-and-true options, if you're looking for brands like Solid & Striped, there are tons of stylish swimwear labels on the market now — and they easily take the top spot for your go-to bikini or one-piece.
Solid & Striped first gained recognition for its classic silhouettes in a variety of eye-catching colors — all staying true to its name, of course. Lately, however, the brand has since branched out into trends including leopard and floral prints, crochet tankinis, and more. And while Solid & Striped's pieces will always be undeniably chic, there are plenty of swimwear labels that are just as cool — and equally deserving of a spot in your collection.
Ahead seven brands to shop for Instagram-worthy bathing suits and bikinis that will fit right in with your favorite Solid & Striped swimwear. Check them out below.
Amaio
Los Angeles-based swimwear brand Amaio focuses on luxurious swimwear you can wear before, during, and after your time at the pool or beach. With these pieces, you'll instantly elevate your swim game up to a new level.
OOKIOH
If you want to add more sustainable pieces to your collection, look to OOKIOH, which has a handful of vibrant (and affordable) swimwear basics that are made from recycled sunken fishnets in order to reduce pollution in the ocean.
Eloquii
As a size-inclusive swimwear brand, Eloquii has everything from classic one-piece swimsuits to fun bikinis in sleek silhouettes.
Onia
Onia is chock full of chic and colorful swimwear, ranging from minimalist-approved textured solids and classic silhouettes to playful '80s inspired graphic prints.
Anemone
Anemone has been making waves as a new swimwear brand, thanks to delicate details such as floral embroidery and 1990s-inspired feminine cuts.
Kore Swim
For sporty swimwear in eye-catching colors, Kore has you covered. This designer swim brand has mastered the art of color blocking for swimwear like no other.
Les Girls Les Boys
The pieces from Les Girls Les Boys have cool athletic details, such as drawstring waistlines and zipper details. Without a doubt, these pieces are bound to turn heads.