7 Brands Like BY FAR To Shop When You're In Need Of Chic, Insta-Worthy Accessories
STAUD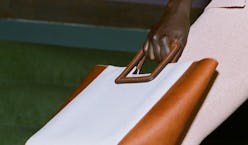 There are so many things to say about accessories. After all, it's already clear that they can put the finishing touches to an ensemble in all the right ways. And depending on what you choose to wear, and how you style them, they can be as bold or understated as you want. And sometimes, they're so good, they'll simply speak for themselves. Such is the case with anything from BY FAR. And if you happen to be looking for more brands like BY FAR with accessories that'll do just the same, there are a handful that you need on your radar.
You've probably seen BY FAR's shoes or handbags among your Instagram feed — the Australian brand practically took over the social media platform with its two-strap Tanya sandal. And while the brand's shoes and bags are undeniably chic and versatile, other brands have pieces that are equally worthy of an Instagram photo (as well as your money).
Ready to expand your accessories repertoire? Scroll down to see seven other stylish brands to know the next time you're shopping for those additional pieces for your outfits.
Maryam Nassir Zadeh
Maryam Nassir Zadeh has taken the fashion world's collective breath away with its refreshing designs that straddle the line between whimsical and cool. Specifically speaking, it seemed as though the Olympia Wedge, $443, was on the foot of every fashion girl last summer. And with new designs for 2019, you can expect this season to be the same.
STAUD
To put it simply, STAUD is the definition of fun. Known for its sleek, modern, and playful handbags, the brand expanded into footwear earlier this year with an equally impressive debut collection. If you're looking for an accessories update, opt for one of the newer handbag designs like the $325 Rey Bag. Or if you're loving the strappy sandal trend, go for the Gita Sandal, also $325.
Cult Gaia
It may have been Cult Gaia's signature Gaia Ark Bag that first caught the attention of fashion lovers everywhere, but the brand has become so much more since it first launched in 2012. Now, you can have resort-ready pieces in the form of bags, shoes, jewelry, and more.
Jacquemus
Though Jacquemus has a way of elevating cool basics to a new level, it's the brand's accessories that make it stand out. Whether it's a pair of sandals with unconventional heels or tiny handbags that can only hold as much as your house key, these are the accessories that will make a major statement so you don't have to.
Danse Lente
If you're looking to invest in the next It bag, look no further. Danse Lente has a full range of eye-catching handbags in lust-worthy color palettes to add a touch of cool to all of your ensembles. And due to their structured designs, these bags will feel both modern and timeless at once.
Rejina Pyo
London-based Korean designer Rejina Pyo creates pieces that feel architectural with a feminine touch. Between the cool $618.84 Olivia Box Bag or the dainty pumps and sandals, Pyo's pieces are ones you do not want to miss.
Rachel Comey
Any piece from Rachel Comey is bound to be head-turning — but the best part is, you'll feel comfortable wearing it. For example, take the New York-based label's $425 Coppa Sandal features a block heel you can walk miles in. And if you're looking for a cool and effortless bag to wear when you're on the go, you'll fall in love with the $450 Runner Cross Body.