7 Braided Updos To Try When You're Over Your Flat Iron
instagram.com/jennychohair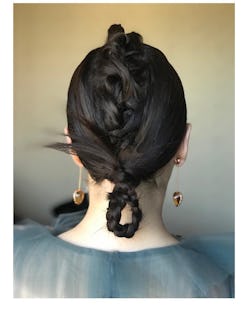 New hair inspiration is refreshing, but looks that save time and the health of your hair is always an added bonus. Braided updo hairstyles are equally glamorous and functional, and can be worn for a couple of days if you preserve them properly.
That's what the name of the game is in Hollywood, at least. Take Emilia Clarke, for example: at the Game of Thrones premiere, stylist Jenny Cho paid homage to her client's character, the Queen of Dragons, by creating a looped dragon-shaped braid. And at the 2019 NAACP Image Awards, Vernon François styled Lupita Nyong'o's coily Afro into a low updo with tendrils, further proving the versatility of 4C hair. Braided looks don't just belong on the carpet or at a red carpet event, though. Chrissy Teigen ran errands (and kept her hair out of her face) by donning easy, breezy double French braids.
To make your week easier, seven celebrity hairstylists gave TZR the exact steps and products used to get each of the looks below. And even better? Most of these are interchangeable and can be adapted for a variety of lengths and textures, too.
(Queen Of) Dragon Braid
To create Clarke's intricately-sculpted look, Cho began by center parting her towel-dried hair before blowing it straight with a paddle brush. Then, using a tail comb, she carved an oval shape at the crown of her head, clipping the rest of the hair away. "French braid your sectioned-off portion down to your nape, then secure with an elastic," she instructs. Then continue to brush your remaining hair towards your braid, tying the loose section around the plait. Tuck the braid under the pony and over the top, then secure with bobby pins.
Cornrowed Ponytail
For Hannah Bronfman's glam cornrows, celebrity hairstylist Nikki Nelms parted her client's hair off into five sections. "If the hair is super curly, you can blow it out and use a low temperature to flat iron to leave it as textured as possible," she says. Then braid from the root with a bit of hairspray on your fingertips (for the sake of ease), making sure that the tension is a little bit loose "for a more whimsical effect." When finished, pull apart and separate the cornrows to make them a bit messier and frizzy. "Embrace the flyaways!" Nelms says.
Simple Low Bun
Sarah Paulson's updo for the 2019 Oscars was fairly simple to craft, according to hairstylist Bridget Brager. "I started by creating a middle part, smoothing all the hair back into a ponytail and securing the ponytail with a hooked elastic. Once the ponytail was set, I used textured hair extensions to create a roped look," she says.
To do that, begin by separating the hair into two sections and twist away from your face all the way to the ends. "I made six rope braids and secured each one to the ponytail with hair pins. Then, I twisted and wrapped each faux braid to make a big statement at the nape of the neck, intricately weaving and molding the hair into the perfect chignon."
Messy Braid & Bun
Actress Piper Perabo wore a perfectly-mussed bun for a recent appearance on The Late Late Show With James Corden. The key to getting such texture, according to celebrity hairstylist Carly Walters, is the prep. "Use a thickening spray on the hair while it's damp for volume," she says. "After, be sure to blow dry while scrunching in order to keep your hair textured." After gathering hair in a loose bun, accent with a twisted braid (check out the steps above!) and secure with French pins to keep in place.
Crown Braid With A Bun
Lacy Redway made Kiki Layne look like a princess at the 2019 Oscars, so it was only right that she wore a crown. A crown braid, that is. "I started by giving Kiki the Nexxus Humectress Masque. Because she has natural hair and natural hair tends to get drier than most other hair types, hydration is key and I wanted to lock in moisture before styling," Redway says. Before blow drying, she added a bit of Jane Carter Solution Nourish and Shine all over the hair, brushed it all throughout using a Denman brush, and dried with the Dyson Supersonic on max speed to help loosen her tightly coiled hair before pulling it back into a sleek ponytail.
"Once I secured the ponytail, I added the braided details into a bun at the back of her head," Redway notes. "Then I added two braids that would mimic a headband going across the top of her head and secured with hair pins."
Double French Braids
For Chrissy Teigen's casual braids, as seen in February 2018, celebrity hairstylist Kendall Dorsey shares his top tip for recreating the look. "Use a high quality paddle brush, like one from Olivia Garden, then slowly part your hair in the middle," Dorsey notes. Then, separate your hair into two sections on the left and the right. "Before brushing your hair out, use a spray conditioner to keep hair tangle-free and healthy looking. My favorite is Briogeo Rosarco Milk Reparative Leave-In Conditioning Spray." Once prepped, assemble two French braids on each side of your head, securing with bobby pins at the bottom.