Affordable Perfume Brands To Shop If You Want An Insta-Worthy Collection (But Have A Budget)
Lush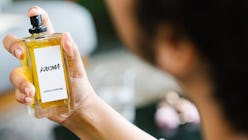 Sometime in 2019, your attention may've swayed away from achieving the perfect skincare #shelfie. No, not because you suddenly felt like your beauty collection was finally complete. It's because the ever-popular vanity snapshot — complete with gorgeous, meticulously arranged perfume bottles — probably caught your eye. It's easy to see why, too. There's an old-school cool factor about mulling over an array of perfumes before you go out, and leaving them on display in your bedroom (or rather, boudoir). And growing an Insta-worthy collection is easier to achieve than you may think, thanks to the affordable perfume brands who make it so.
You see, finding an amazing perfume for under $100 isn't just a pipe dream in 2019, and you don't have to rely on the internet, either. In fact, you can find one during your next trip to Target. However, you can still discover plenty to shop without ever leaving your house — and seven of the best brands to look for are below. Even better? Each one on the list offers a bottle for under $100 (sometimes way, way under). Get ready to clean off a place on your vanity for your new collection.
1. TokyoMilk
Looking for a perfume that'll help you stand out of the crowd, but won't completely break the bank? TokyoMilk crafts unique scents — particularly dark, more unisex fragrances — that are typically hard to find at accessible prices.
2. Good Chemistry
And speaking of accessibility: It's hard to beat a brand you can pick up on your next Target run. Available in the retailer's beauty aisle, this fan-favorite perfume brand has made a major splash with Target's customers.
3. Eau de Juice
A new perfume line from none other than Cosmopolitan magazine, Eau de Juice's whimsical perfumes will make you feel like flipping through its glossy pages late at night — they're fun, inviting, and just a touch sassy.
4. Pinrose
Likewise, the affordable, cruelty-free perfume brand Pinrose puts the focus on fun. Its scents (and adorable packaging) will also put a smile on your face, with names like Secret Genius and Wild Child.
5. Solinotes
Parisian perfume, available at Target? Yes, it's true. Solinotes' budget-friendly fragrances are surprisingly versatile, allowing shoppers to snag complex scents like fig and musk for $20 a pop.
6. Philosophy
Chances are high that you know of the fragrance and beauty brand Philosophy if you've shopped at Ulta or Sephora. The affordable brand is wildly popular at both — its Amazing Grace perfume has net thousands of perfect reviews at the beauty retailers.
7. Lush
You know your favorite Lush scent? You probably can get it as a perfume, too. And of course, the cult-favorite beauty brand's prices are pretty great — even for fan faves, like Karma.