6 Surprising Brands That I Always Shop For At Nordstrom
Hunter Abrams/BFA/Shutterstock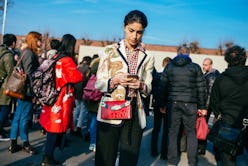 You already know that Nordstrom is the place to go for great basics and your favorite contemporary brands like Rag & Bone and Veronica Beard. The retailer also has an impressive roster of indie and luxury brands in its Space shop — Marine Serre, Jacquemus, and Off-White to name a select few. But, what you might not know is that in addition to scoping my favorite up-and-comers there, in all of my years shopping there, I've also discovered a few surprising brands at Nordstrom that you may not know are worth checking out on the retailer's website.
Consider this inside scoop my ultimate Nordstrom shopping hack. My reasons for picking out each of these brands differ, some I buy from Nordstrom because I have a better chance of scoring quick-selling items in my size than on the brand's own e-tail site. Others I always seek out there because I find the shopping experience can make picking out especially tricky items much easier. Since the retailer has a loyal following of users who leave both ratings and reviews, I can also get a virtual second opinion on an item before having to bug my friends. Below, you'll find a break down of six brands that I always buy from Nordstrom, and now that you're in the know, you will, too.
Topshop
While Topshop obviously has its own e-tail website, I've noticed that my favorite items sell out in my size too quickly for me to snap them up. If I head over to Nordstrom, I can often find said pieces still available in my size — how's that for a shopping hack?
Nike
I'm not a full-on sneaker obsessive, but I do have a thing for cool and exclusive reissues, which is why I'm always impressed by the selection of limited edition styles Nordstrom has (including these Sean Wortherspoon Air Maxes). Though the buzziest styles still manage to sell out quickly, there are plenty of cooler-than-your-average shoes to add to your cart.
Madewell
Jeans are a tricky category to shop online. Fit can change, even between denim styles from the same brand, and I like to know the feel of the material before I decide to buy. But, what I love about shopping denim on Nordstrom's website is the fact that the combination of customer reviews and close-up photos make it surprisingly easy to accurately guess how jeans will fit — and feel.
Zella
If you haven't heard of it already, Zella is Nordstrom's in-house activewear line and it's a solid go-to for simple, comfortable basics. The leggings fit well and aren't overly trendy or flashy, and the same goes for the brand's tees and sports bras.
Reformation
Mostly every TZR editor clocks some serious hours on Reformation's site, but now that it's also on Nordstrom, it's important to cross-check items before buying. Not only does Nordstrom have handy customer ratings, it offers another look at the pieces thanks to separate e-commerce imagery.
Spanx
There's something about shapewear purchases that feel like they're usually a last-minute emergency buy. Nordstrom offers a wide range of options (ideal for an unexpectedly strappy, sheer, or low-cut wedding guest dress), and it'll ship quickly.