6 Minimalist Activewear Brands To Shop That Are Equal Parts Simple & Sporty
Nylora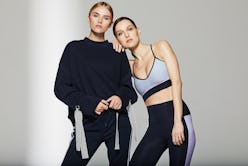 It's no surprise that athleisure has earned its staying power in the fashion industry. However, it wasn't that long ago that many were having the great debate of whether or not leggings could be worn as pants (needless to say, activewear has come a long way). And with workout clothes becoming increasingly popular among everyday ensembles, the range of styles — from bright and colorful prints to muted neutrals — continues to expand. For those of you who have an affinity for the latter category, there are a ton of minimalist activewear brands to keep on your radar.
Let's be honest: While there's a good chance you've already stocked up on various styles of black leggings, nothing can get you more motivated to head to the gym — and anywhere after — than a set of new gear. And between the chic labels you may already recognize and under-the-radar brands you need to know, you're destined to find a few things worth wearing on repeat.
Whether you plan on gearing up for your next Pilates session or just want something chic and comfortable to wear for your next long flight, these brands each have cool, sleek, and understated pieces that'll fit seamlessly with the rest of your wardrobe.
Scroll down to see the six brands creating beautiful, minimalist pieces for all of your workouts and beyond.
Girlfriend Collective
Using material made from recycled water bottles, Girlfriend Collective creates sleek activewear pieces in timeless silhouettes. These pieces, which range from high-waisted leggings and sports bras to tank tops and shorts, come in a variety of solid colors to choose from for your essential gym look.
Live The Process
If you love to wear anything ballet-inspired for your barre or Pilates class, Live The Process is for you. Whether you opt for one of the brand's bodysuits, leggings, or creamy knit pieces, these pieces will have you feeling like a modern ballerina.
Year of Ours
Year of Ours pays homage to traditional American sportswear with styles like its Football Leggings. Shop the brand for cool and unique activewear pieces that won't overpower the rest of your ensembles.
Alo
Whenever you want classic and modern pieces to wear to your next yoga class, look to Alo Yoga. Known for its minimalist pieces that carry a touch of streetwear edge, you can wear the brand straight from class to brunch with your friends.
Filippa K
With pieces available in a neutral color palette, Filippa K's Soft Sport line is what a workout-driven minimalist's dreams are made of. Without a doubt, these pieces will be among your workout clothes for years.
Nylora
Founded in 2018, Nylora was created to be an elevated activewear brand that fits into the modern woman's life — and that's exactly what you'll get. Between sleek leggings in pastel blue and effortless knit tank tops to wear from the gym to a night out, Nylora will be part of your workouts and the rest of your life, too.