6 Retro French Girls That Secretly Influenced This Big Trend
AP/Shutterstock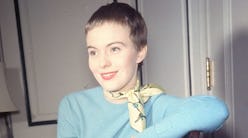 A simple, Parisian-inspired outfit has become a sartorial aspiration for many women interested in fashion. It makes sense: The French have nailed down the art of insouciant style with their wardrobes full of pared-down staples, complemented by tousled hair and a swipe of red lipstick. If you have ever craved that same je ne se quois, then you likely have turned to modern icons like Jeanne Damas or Garance Doré for inspiration. However, in the spirit of trying something new and unexpected, why not nod to French New Wave fashion icons for your next look, instead?
French New Wave was a film movement during the '50s and '60s that turned traditional cinema on its head with innovative camera and editing techniques and an entirely new approach to making movies. A byproduct of this revolutionary moment was the fashion that emerged from it. The women who appeared in many of these films — especially Jean-Luc Godard's "Godard Girls" — quickly became the trendsetting faces of the cinematic movement. As a result, they prompted women around the world to emulate their aesthetics with alluring cat eyes, striped shirts, and all-around effortlessly-perfect fashion.
Ahead, discover why you should channel these French fashion icons right now and shop your favorite pieces to make your style très parfait.
Anna Karina
The Danish-French actress was a regular in Godard films, including A Woman Is a Woman and My Life to Live. She's widely considered one of his muses and it's no wonder — her perfect blunt-cut bangs, noir eyeliner, and overall air of effortlessness makes her one worth imitating.
Jean Seberg
Kristen Stewart stars as Jean Seberg in the upcoming film Seberg, so it's inevitable that this American expat who spent much of her life in France will be the topic of much discussion come fall. Aside from her charming pixie cut, Seberg was also a purveyor of chic pieces like neckerchiefs and Breton-stripe tees.
Cathy Rosier
This French model and actress was well-known for her role as a pianist named Valerie in Jean-Pierre Melville's Le Samourai. Her go-to glamorous looks — sequins, velvet, and leopard print included — are well worth adding to your moodboard.
Anne Wiazemsky
Wiazemsky and Godard were married for several years and she appeared in many of his more notable films. Her personal style was Parisian chic at its finest with printed mini dresses, wide-leg slacks, and ballet flats, the modern trappings of French girl style. Do yourself a favor and Google her fashion — c'est magnifique.
Catherine Deneuve
The French actress is famous for her role in Belle du Jour. Her signature bouncy mane and love of simple, refined staples remain emblematic of Parisian style. Channel her look with black babydoll dresses, a leopard coat, and simple gold jewelry.
Jeanne Moreau
If you've watched Jules and Jim then you already know why Moreau is one worth mentioning. Her personal style was an amalgamation of pared-down femininity and off-duty perfection. Aside from her brilliant performances, her fashion is also well suited to serve as inspiration for your wardrobe.