6 Easy Fall Styling Tricks You Can Start Using Right Now
@sisiliapiring On Instagram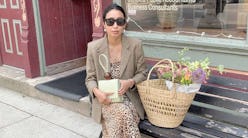 The signs are all around: summer is almost over, friends. Chatter about fashion week is already echoing in the halls, and every website's new arrivals section is chock-full of coats and wool trousers. Sure, the official start of fall isn't until Sep. 23, but it's well within reason to begin planning for the season ahead. Since weather is slightly unpredictable these days, it's a smart idea to cobble together a few fresh fall fashion tips and tricks that'll help you ease your wardrobe into cooler weather — transitional dressing, to put it simply.
The secret to successfully employing an effective swap to fall dressing has everything to do with reimagining the items in your existing closet and then adding in some cozier color palettes and textures. For example if you're obsessed with that floral Doen dress you splurged on earlier this year, swap out your leather sandals for a pair of sheer socks and boots and you're suddenly in a dreamy autumn ensemble. If shopping for an entire new wardrobe is an intimidating concept, consider these six simple tips your low lift alternative. To further drive the concept home and help spark some ideas, continue ahead to see how Instagram influencers are already starting to implement fall styling tricks in their outfits. Plus, shop the holes in your wardrobe to make sure once fall is officially here, you're ahead of the game.
Strappy Sandals + Denim Tuxedo
Not quite ready to take off those photograph-friendly strappy sandals everyone's been wearing all summer long? Not to worry. You can still wear them, just try teaming these low heels with something that feels more suitable for autumn, like Pernille Teisbaek's denim-on-denim ensemble above. If it's especially cool out, toss a cardigan on top.
Tailored Suit + Graphic Tee
Anyone who's invested in a well-fitted suit knows how useful it is to have this staple hanging in their closet. While during summer, you may have styled the top and bottom separately, now that fall's almost here it's an especially opportune time to break it out in full. Give it a transitional spin by layering a graphic cotton tee underneath the blazer and finishing with cool sandals.
Floral Dress + Moody Footwear
Your footwear can change the vibe of an entire outfit, which rings especially true when wearing a pair of chunky platform shoes — like Dr. Martens — with a floral dress. Perry Ellis grunge vibes, no?
Autumnal Patterns + Versatile Accessories
Slip dresses are a summer staple, but a style in a subdued hue or pattern can easily transition if you layer a plaid blazer on top. Together, the two are still breathable enough to combat confusing transitional weather temperatures while still feeling purposeful. For below, try some granny flats or ankle boots.
White-On-White + Warmer Separates
You already know by now that white is appropriate to wear all year long, but if you're wondering how to style it for Sept. through Dec., consider the outfit above. Layer a noire blazer on top, and reach for an Oxblood-colored bag instead of your straw purse.
Reimagined Leather + Sneakers
In the mood to try something unexpected? Eschew the leather jacket and opt for a reworked staple, like a cool top or culottes. For twice the impact, wear two pieces at the same time. To polish things off, a pair of sporty trainers and cat-eye sunnies.