My Go-To Fall Uniform Is About To Get A Major Upgrade Thanks To These 6 Pieces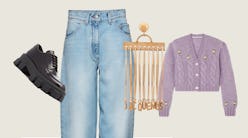 For The Zoe Report's fall fashion issue, TZR editors are sharing the Fall/Winter 2019 pieces they're most excited to welcome into their wardrobes. Going into the new season, shopping news editor Shelby Hyde has her eyes set on a pair of chunky Prada brogues that go with just about anything.
I almost never know how to respond when asked to describe my style, mainly because it really just depends on the day and what I have planned. I've had friends even go as far as calling me "occasion Barbie," which I feel really sums up my desire to just have fun with what I'm wearing and try on a bunch of different hats. Ultimately, as cliché as it sounds, I try to go with what makes me feel most confident while not being afraid to take some styling risks. If it doesn't work, I tried it and now I move on.
That said, when it comes to building a wardrobe, I tend to lean more toward capsule curation, as I think it's really important to put your focus (and money) on high-quality basics, with a few heart-throbbing statement pieces that pop up along the way.
The same can be said for fall dressing. I always want to make sure that I'm investing in really nice jackets (be it blazers or casual) and denim, since I would consider these to be the backbone of my wardrobe. At the start of the new season I try to stock up on pieces I know I'll continuously reach for when I get dressed in the morning.
During fall more than ever, practical footwear is super important to me. But I'm a firm believer in finding the sweet spot between comfort and style (yes, both are attainable). I've found that dressing from the feet up makes deciding what to wear each day that much easier.