This Unexpected Haute Couture Trend Might Actually Translate IRL
Courtesy of Chanel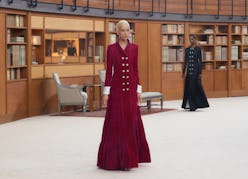 The haute couture creations that come down the runways in Paris — or in the case of this season's Fendi show, Rome — exceed most fashion expectations. Generally speaking, couture is more luxe thanks to both the rich fabrics, expert-level craftsmanship, and painstaking detail. It's also more grand, often by way of dramatic, space-occupying designs. And lastly, more mind-bending (see: anything Iris Van Herpen) than most items the average fashion lover ever wears. But among the dreamy, red-carpet-ready designs of Giambattista Valli and Valentino, or even the modern takes on Chanel's signature tailoring, the Fall 2019 haute couture trends are surprisingly wearable, even if the price tag might lead you to think otherwise.
By zeroing in on a few overarching trends — fresh silhouettes and some re-imagined classic pieces included — it becomes easier to translate how fashion's most premiere creations can influence style for the everyday shopper. Instead of Givenchy's full-body display of feathers, one can ease into the trend with an accessory or hemline. Reimagine a strong one-shouldered Dior gown into a style which the look can be worn in a much more casual setting. While the craftsmanship of couture is unmatchable, it is possible to let the luxe looks inform your day-to-day style.
To see more of couture's most prominent trends that have a place IRL, keep scrolling.
Of A Feather
Plumes were highly present among the haute couture collections, but not all were deployed equally. Schiaparelli opted for a more sparse, scattered display, while other houses including Givenchy leaned into a more-is-more approach. Though fully-body feathers might be too delicate and textured to translate to an ensemble that can survive the subway or requires layers on top — certainly in the case of the structures seen on the Iris Van Herpen's runway — testing the texture with a statement accessory is a good way to ease into this otherwise fantasy fabric.
Tiers Of Joy
One of the most powerful displays of fashion is a piece that takes up space, completely unapologetically. These kind of silhouettes not only speak to the person in the dress — arguably someone unafraid or desiring to occupy such territory — but it also feels daring and warrants a bit of extra attention. Such full silhouettes were pictured throughout the couture shows, namely in full, billowy, tiered designs. There were both floor length at Fendi and Dundas and mini versions as seen in the Giambattista Valli collection. A more subdued way to wear the look is to adopt a similar silhouette when shopping for a breezy summer dress.
Big Bow Energy
Bow details tend to feel a bit more saccharine than other accoutrements, but they carry a different attitude when said bow is oversized, powerful, and bold. This detail completed dreamy dresses at Valentino and Giambattista Valli, and at Viktor and Rolf they belted full, maxi skirts. Naturally, you can look for bows of all sizes to reinterpret the detail for every day, but a bigger version will definitely pack more of a punch.
Full-Length Jackets
Even if heavy jackets aren't on your shopping list quite yet, the couture collections of Armani, Chanel, and Dior gave something to look forward to in the form of sleek, unfussy, floor-grazing designs that seemed to be both outerwear as well as an alternative to a usual maxi dress. Regardless of whether couture will be in your closet by then, there are many similarly streamlined options to try for any cold-weather fronts ahead.
Try out the extra-long coat trend:
One-Sided Gowns
Singular cold shoulders made an impact in beautiful gowns by Dior, Elie Saab, and Chanel, proving that fashion continues to love a bit of luxe asymmetry, especially in a wider cut that falls over the shoulder. Should you be in the market for something a bit more geared towards a relaxed weekend than a black tie affair, look for this silhouette in more casual tops and dresses.
"X" Marks the Spot
Scarf-tied tops are already a prominent theme for summer 2019, so it may be a relief to see that houses like Dundas and Azzaro also choose to champion a neckline that's similar in practice: wrapped around the bodice and tied in a halter behind the neck. It instantly feels vacation-ready, even when done in a dark, metallic fabric, as seen at Dior. To immediately try the trend, look for easy dresses with a similar cut or grab a scarf and start wrapping.