6 Brands Like Mansur Gavriel For Modern Minimalists To Wear Every Day
Ratio et Motus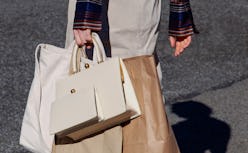 At this point, chances are you've become more than familiar with Mansur Gavriel's Bucket Bag. The label's iconic purse — which has become one of the most sought-after handbags of its time — not only launched the brand to new levels as an instant classic but has also marked the beginning of a new movement focusing on sleek, design-forward, and minimalist-approved accessories. As a result, a new crop of brands like Mansur Gavriel has risen to the surface of the fashion industry. And if you've been in the mood to round out your handbag collection with a few new styles, there are designers with pieces to wear for every occasion.
Right now, the minimalist aesthetic — whether it's in the form of dainty jewelry or everyday basics — is more popular than ever. And let's face it: Shopping for sleek and simple handbags to wear with your ensembles can occasionally feel like a chore rather than an exciting opportunity to update your wardrobe. Luckily, there's no shortage of brands designing streamlined bags that feel both undeniably modern while maintaining a timeless quality. And if you're looking for something chic to finish off your outfits, these brands have a seemingly endless supply.
Medea
You've probably stumbled upon one of Medea's ultra-simple leather totes, which mimic the look of classic shopping bags. Available in an array of colors ranging from neutral hues to bright orange and lavender, the brand's simple bags are a unique and unexpected option for your everyday looks.
Matine
One look at Matine's American-made bags is all you need to fall head over heels for its simple and utilitarian approach. Using sturdy, quality leather in classic shades like white, forest green, and honey, the brand set out to create season-less bags you'll reach for time and time again.
Ratio et Motus
Ratio et Motus has managed to create vintage-inspired bags that feel anything but dated. Whether it's a style like its Instagram-worthy Twin Frame Two-Tone Leather Tote that gives the classic 1950s-style purse a modern update or something more understated, there's no doubt that this brand's pieces will be conversation starters.
DeMellier
If you're looking for a bag to style with your work ensembles, opt for something from DeMellier. The brand, which set out to create bags that are well-designed, well-made, and functional has everything from classic crossbody bags to structured totes.
Matter Matters
Want something that leans more toward the modern side of minimalism? New York-based Matter Matters creates pieces that feel like reimagined works from the pop-art movement. Thanks to the rich colors and geometric silhouettes of its pieces, Matter Matters will add a cool edge to any ensemble.
ONESIXONE
Believe it or not, ONESIXONE's bags are inspired by math's Golden Ratio, 1:61 — aka the perfect proportions. According to the brand's website, each bag is "crafted to mathematical perfection," which would explain why its styles feel so aesthetically pleasing. Of course, it certainly doesn't hurt that they also come in a variety of vibrant colors and unique prints.