6 Cool Ways To Style Jeans And A Blazer, Because Even The Best Outfits Need A Face Lift Sometimes
Silvia Olsen/Shutterstock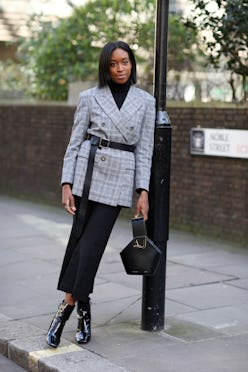 A two-piece suit may be the style du jour of the fashion set, but that doesn't mean it can ever replace the humble duo of jeans and a blazer. This simple combination manages to check all the right boxes for the 2018 woman: Transitions from day to night? Yep. Is comfortable enough to wear all day? Also a yes. Does it require a PhD to put together? Thankfully, no — but, when you fall into a habit of wearing an outfit over and over again (even if said outfit is really, really good), sometimes you need to hit refresh. Which is why seeking out some inspirational blazer and jeans outfit combos can help you think about your go-to look in a whole new way.
The key to revamping the way you wear this classic work combo is to throw any usual rules out the window. Sure, a tuxedo jacket is supposed to be black tie, but paired with the right pair of relaxed jeans, it's unstuffed enough for a daytime revival. As for a boxy plaid blazer, right now it's your go-to for Monday through Friday, but add cool jeans, a slinky top, and the right accessories, and you've just created an ensemble worthy of after-hours business too. Below, find five fresh ideas that will change the way you think about (and yes, wear) your favorite ensemble.
Tuxedo Blazer And Rough-Hem Jeans
To balance out the polish of a tuxedo-style blazer, try styling it with an ulnhemmed pair of cropped jeans. While traditionally such a sharp topper might be relegated to black-tie events only, the jeans give it a more daytime vibe. Heels and ladylike accessories ensure the finished look doesn't feel disheveled.
Tweed Blazer + Dress + Jeans
When the weather is cold, it's the ideal time to break out your layering prowess, which makes this look all the more idea. Try styling your favorite jean and blazer with a contrasting-printed dress between. Since your look is all about the clothes, keep accessories to a minimum and simply throw on a pair of comfortable boots or sneakers.
Boxy Blazer + Relaxed Jeans
A blazer and dark wash jeans may be a classic office-wear combination, but they work for night-out dressing too. Style them with a fitted bodysuit or silky cami and you're good to go. Dainty jewelry, like hoops or stacked rings plus a pair of pointed black ankle boots complete this evening ensemble.
Corduroy Blazer + Boot Cut Jeans
Rich fabrics like corduroy and velvet are ideal for the cooler months of the year, so if you've had enough of your go-to plaid style, try swapping a textured style in a jewel-tone or neutral. To finish the look, add a boot cut or flared jean, which is an unexpected reprieve from standard skinnies.
Belted Blazer + Wide-Leg Jeans
Whether you choose to belt a blazer you already own or to choose a style that comes with its own cinching capabilities, nipping in a blazer at the waist is a great way to cut down on a high volume head-to-toe look. Add sleek black accessories to finish this polished ensemble off and you'll be ready to impress.