The 6 Beauty Brands That Every Aesop Fan Should Have On Their Radar
Le Paradis/Instagram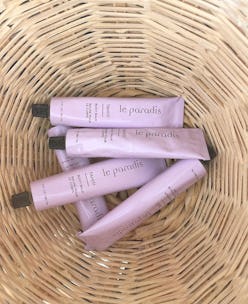 If you've seen a picture of a bathroom on Instagram before, you've seen Aesop soap. It's the brown bottle that's so chic, people literally buy it just to use as decoration (and then, obviously, bask in its glorious fragrance). And though not new — the brand was established in 1987, actually — it's catapulted into cult status in the past 10 years. Because of that, you probably already know and love it — and may be looking for similar labels to add to your collection as well. If so, you're in luck: There are plenty of beauty brands like Aesop — each with their own special claim to fame — that you can shop.
Aesop has its own very distinct look and quality, but the following brands are just chic and effective — in their own way, of course. So clear off some space on your bathroom sink and keep scrolling — six other brands you should know are ahead.
Le Labo
Le Labo's most well known for its cult-favorite fragrances (its Santal 33 perfume is a mainstay in the fashion crowd), but that's just one of the many beautifully scented products the brand makes. And, of course, minimalists will love the packaging — pretty much everything has the same pared-down look with black and white colors and typewriter font.
Costa Brazil
For products that are equally as luxe (albeit with a slightly different, but still minimal, aesthetic) look to new brand Costa Brazil. The luxe line by Francisco Costa, which debuted in 2018, is not cheap: Included in its current collection is a $98 body cream and a $125 face oil. However, it is quickly proving that its price tags are worth it. Editors are already raving about its products, and honestly, just think of how good the sleek packaging would look on your bathroom sink.
Le Paradis
Started by lifestyle and travel writer Stephanie Steinman, Le Paradis is an emerging beauty brand that's all about providing customers with "lust-worthy products that would instantly transport you to a tropical getaway," according to its "About" page. And that it does. Between the pastel-colored tubes and the summer scents, the addition of these to your bathroom will remind you of days spent on the beach — and obviously look good in your space while doing so.
Grown Alchemist
If what you're really looking for is a brand that has a similar aesthetic to Aesop, Grown Alchemist should be where you start. It clearly carries the same color theme and extremely simple, word-heavy design; plus, its products have that same cool, earthy smell that's often hard to find in products like hand wash and lotion.
Nécessaire
Since launching in 2018, Nécessaire has become one of Instagram's favorite brands to photograph — and really use, too. The brand was originally known for its first product, a body wash that *actually* hydrates, and has since expanded with other launches that were equally well met by fans (like The Body Lotion that you basically can't look at social media without seeing).
Compagnie De Provence
This brand started in 1990 when two friends from Marseille decided to reimagine the classic cube of Marseille soap — and it's only gotten chicer since. Now the company makes everything from body care to fragrances, all with the same idea: high-quality, natural products that look great in your home.