The One Pair Of Jeans You'll Wear All Winter Long
Christian Vierig/Getty Images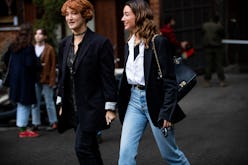 Once the first frost arrives, boots and coats are top shopping priority. So, it's only natural to overlook your need for new basics like denim. But this time of year calls for thicker fabrications, as well as cuts that work well with your winter footwear and plethora of chunky knits, so it's time to bring focus back to your bottoms. And who better to inform your must-try winter jeans trends than the industry insiders wearing them, because no one knows what's next better than the street style stars already wearing it.
You may have spotted the change in your Instagram feed already, but many of them share that they're swapping out skinny jeans for alternate silhouettes. Though you don't want to give up the workhorse styles already getting you through the weeks, you may want to consider a few current trends to add into the mix like quirky leg silhouettes or paper bag waists. Luckily, the five women below can be your most valuable assets when assessing the denim styles to adopt. Now you're ready to cut through the noise and get down to the best jeans on the market (and there are plenty), so take a look at their must-try trends below.
Oversized Denim
As Shopbop's fashion director, Caroline Maguire's title goes hand-in-hand with knowing what's next. "There are so many denim trends I'm loving right now, but I'm currently obsessed with high-waisted, straight-legged, paper bag, and black acid wash jeans," she explains to TZR.
For Maguire, the rise of roomier denim styles was just another nudge to ditch her skinny jeans. "I've never loved skinny jeans. I prefer '90s style denim," she explains. "I love the idea of tucking an oversized knit into high-waisted denim and cinching everything in with a belt." For extra layering, I'll add an oversized blazer and slouchy over-the-knee boots."
Simple & Sleek Jeans
Lisa Folawiyo's eponymous label boasts bold prints and colors, but she relies on sleek, dark denim for her off-duty looks. "The last few pairs I've bought have been deep blue washes or black, all straight cut and high-wasted," she explains. "I wear them with everything ... cropped jackets, chunky knits, oversized hoodies, and leather biker jackets."
This season, Folawiyo's denim shopping list includes modernized vintage silhouettes. "I'm on the hunt for a great stone-washed, high-waisted pair á la Isabel Marant and gray straight-leg jeans [like those from] Balenciaga or Saint Laurent."
Quirky Denim Shapes
"We have seen loads of skinny jeans and destroyed styles over the past years and this season it's time for something new," says Tiffany Hsu, Fashion Buying Director of MyTheresa (and bonafide street style star). "I love to experiment, so I am definitely going for some of the current trends and shapes [like] high-waisted, carrot legs, and belted styles."
To balance out bolder silhouettes, Hsu suggests keeping the rest of your look simple. "I would always style it with a nice belt, and wear it with an easy top tucked in or a chunky sweater."
Vintage Denim Reborn
This season, influencer Kellie Brown is going back to basics and shopping vintage. "I've avoided denim because plus denim is all about the skinny jeans, which I haven't really felt inspired by," the founder of the blog And I Get Dressed explains. "But when I can find it, it's vintage ... structured, but broken in."
When shopping, Brown prefers simple denim in medium to dark washes with non-tapered ankles. "I'm currently feeling a major shift in my style and have been envisioning myself as a preppy '80s teen villain like James Spader in Pretty in Pink or the cast of Heathers but with modern twists that make it ironic," she adds.
Jeans With Practical Pockets
Dutch influencer Linda Tol is on the lookout for tweaks on timeless denim styles with oversized silhouettes for the season ahead. "I'm a big fan of the carpenter jean. They're straight-legged and contain multiple pockets," she explains.
Tol's signature style is all about refined-yet-comfortable pieces, so she suggests dressing up denim with tailored pieces. "I wear a button-down shirt half-tucked into high-waisted jeans, or in combination with a tank and an oversized coat." To finish add a refined shoe, like a heeled sandal, slingback pump, or chunky flat sandal.