5 Holiday Jewelry Trends Designers Predict Will Take Off Through December 31
Edward Berthelot/Getty Images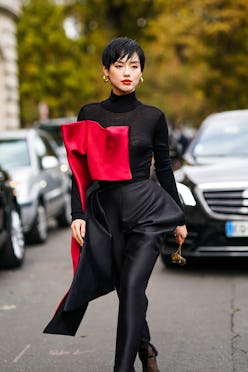 Family dinners, office parties, cocktails with friends, and glittering NYE get-togethers are all on the horizon — that's a lot of outfits. Or, you could invest in a few holiday jewelry trends instead, and transform a few key ensembles a number of times over. That could mean adapting an all-black look for day and nighttime affairs, or it could be about finally leaning into the silver sequin bridesmaid dress you said you'd never wear again. This time of year is all about glitter and glitz, after all.
This winter, many jewelry designers are reimagining classic party baubles with a distinctly contemporary twist. Prim pearls, for example, take on organic and unusual forms, and past seasons' dainty, gold accents go big, bold, and in your face this party season. Even the humble stud earring shifts into a statement-making piece for elegant events. "It's all about balance with the whole look, and not wearing too many different trends at once," emphasises Khadijah Fulton, designer of everyday fine jewelry brand White/Space. "Try to focus the attention on a few key areas based on the outfit. If the clothes have a lot of details, it may work better to go with more subtle jewelry. If your look is more minimal, that's a great opportunity to add dimension and personality with bolder statement pieces."
Whether you're going for a flashy holiday look or one that's more pared-back, find out which jewelry trends designers suggest making part of your holiday party look.
Playful Pearls
"Pearls can be dressed up or down and provide timeless elegance," explains Hisano Shepard, founder of pearl mecca little h. "There are so many beautiful natural shades available in pearls, from soft rose or creamy overtones to stunning metallics, the options are endless to accentuate and complement anyone's skin tone." While the pearl craze dominated this past summer, it remains a worthy trend for winter, with designers turning to unusual interpretations of the trousseau staple. The uneven texture and imperfect appeal of baroque styles makes everything from pendant earrings to mismatched bracelets feel fresh and youthful for more conservative Thanksgiving dinner. "Jewelry is a great way to bridge generational divides," explains Fulton, and pearls are the most diplomatic style strategy for the holidays.
Statement Studs
Statement studs may seem like an oxymoron, but small baubles can have a big impact thanks to clustered, linked, and sculptural styles. Thanksgiving and days spent wrapping (and then unwrapping gifts) are well suited for more subtle earrings. Work petite studs as a set, combine with an ear climber, or partner with dangling drops for unexpected asymmetry. "If I'm wearing a glitzy top with sequins or any embellishment, I'll balance it out with smaller gold studs," offers Selin Kent, the designer of her eponymous fine jewelry collection who swears by dainty options.
Bold Gold
Long chains and thick chokers remain popular picks, but now massive link bracelets, thick, domed cocktail rings and hand-sculpted earrings are part of the conversation too, according to Nicole Rose Kopelman, the creator colorful fine jewelry Nicole Rose. Large Cuban-link necklaces and thicker bands are a dramatic graduation of the delicate personal jewelry we saw in 2018. "I'm obsessed with antique gold chains," says Hisano who also adds pearls, gemstones, and crystals to the heavy metal designs. Reach for large twisted chains and bold cast earrings that pair well with printed silk dresses and velvet tops as an alternative to rhinestones for more glitzy holidays like New Years Eve. "I love how minimalist, and strong the bold chains are," notes Fulton.
Party Hoops
"Right now, I love mismatching hoop earrings with long earrings because it gives a bit of personality to my go-to holiday look — a slipdress and sweater," explains Christina Tung, designer of sustainable jewelry brand SVNR. "I love a major earring, because they frame your face and look great in photos."
Swap the thick gold hoop that dominated street style this year for a glitzy party hoop with diamond additions. Colorful, sizeable options in semi-precious stones are a less fussy way to add a little extra glitz to a nighttime look, according to designer Erin Sachse of Eriness, a luxury jewelry line that includes a number of brightly-hued hoops.
Creative Color
Incorporating color doesn't have to feel cheesy. "We are seeing clients drawn to mixing in an emerald, blue sapphire, or red ruby with their diamonds," says jewelry designer Grace Lee whose range includes a selection of resin rings and bracelets accented with diamonds for the holidays. "Instead of sporting single-color or all-diamond jewelry, mixing and matching colorful pieces with those sparkly diamonds will elevate the whole look," advises Sachse. Search for artful interpretations that reference modern artists like Alexander Calder rather than the once-ubiquitous chandelier earring. Rings and bracelets in saturated hues and endearing shapes keep the holidays merry and, of course, bright.