My Personal Style Is Both Feminine & Sporty — And These 5 Fall Pieces Hit Both Extremes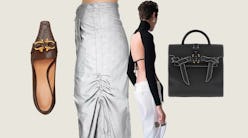 For The Zoe Report's fall fashion issue, TZR editors are sharing the Fall/Winter 2019 pieces they're most excited to welcome into their wardrobes. Here, senior fashion editor Aemilia Madden reveals her top picks.
I've spent much of my life trying to embrace the fact that my personal style is a bit of a dichotomy. I grew up in Oakland, California, and my outdoorsy, REI-loving parents and sister still laugh at the fact that 5-year-old me would show up to the dinner table in a velvet dress and little Mary Janes. As I've entered adulthood, my proclivity for dressing up remains, but I've also held on to the sporty sensibilities of my childhood — and let's be honest, my love of vintage denim, Birkenstocks, and Patagonia doesn't always jive with the polished, professional aesthetics of the NYC working world.
When asked in the past, I've described myself as a tomboy with a Pride & Prejudice complex, and while it may be tricky for others to marry together the two extremes of my personal style, toeing that reality is where I'm most comfortable. Personal style is about establishing our own sartorial narratives and wearing pieces that make us happy — regardless of whether they make sense to anyone else. And rather than tuning out opposing preferences, I'm all for finding ways to channel my wide range of inspirations, fitting them in where and how I need them.
Embracing the innate juxtapositions of my style has helped me grow my creative sense, and allowed me to thoughtfully navigate through different sartorial worlds. If I'm at an event in a Brock dress and heels, I feel just as much myself as when I'm at home on my couch in a tie-dye tee and cut-offs. So, as you'll see below, my fall shopping picks manage to run the gamut while still feeling true to my sense of self.
Bode Jacket
Bode's homage to homespun vintage has intrigued me for seasons, and it's exciting to see designer Emily Bode getting the credit she deserves. Her pieces are simple, comfortable, and feel entirely personal.
Alyx Bag
My sportier proclivities have long drawn me to the designs of Alyx, where designer Matthew Williams, both on his own and in his collaborations with Nike, has managed to marry sportswear with a certain sleek elegance.
Peter Do Turtleneck
Céline alum Peter Do has managed to create an entire line of low-key, polished basics that I'd love to incorporate into my closet.
Bottega Veneta Loafers
Bottega's fresh crop of accessories has captured the heart and eye of every fashion editor, myself included. As I'm searching for my next chic-yet-comfortable shoe purchase, these loafers top my list.
Saks Potts Skirt
I had the chance to see Saks Potts' fall collection up close in Paris last season, and ever since, I've been waiting for the opportunity to add this cool reflective skirt to my closet. I'm fairly sure I owned something similar as a 7 year old, but I'm excited to style it through my current aesthetic lens.