5 Under-The-Radar Couture Designers That You Should Keep An Eye On
Yolancris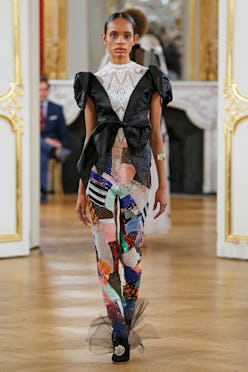 Each season, the The Chambre Syndicale de la Haute Couture has a meeting in which they appoint a very select group to present as guest designers on the official couture calendar in Paris. Since couture week is considered the time when top fashion houses, including the likes of Chanel, Margiela, and Dior, present their most luxurious pieces — which often take hundreds of hours, or even months to create — emerging designers at couture week can make the whole thing feel more accessible, inclusive and engaging. Many of these smaller brands bring new, forward-thinking ideas to the table. For example, Belgium-based label Flora Miranda uses computer-generated data to create gowns that are every bit as complex as those made by the bigger fashion houses.
These designers often prefer the opportunity to present on the couture week schedule as opposed to the traditional ready-to-wear, because it provides a different platform with a smaller, more niche audience. At just four days, couture week is only half as long as ready-to-wear week, and the invite lists are often more geared towards potential clients, many who collect pieces as if they were works of art.
That said, plenty of the official guest designers, as well as the ones showing off-schedule, push the boundaries in ways the big houses don't, by creating wildly imaginative clothing that verges on art. Here, five new names to know now from couture week.
Julie de Libran
You may not have heard of Julie de Libran's name just yet, but you've definitely seen her work. The designer, who debuted her namesake collection during this couture season, has an impressive resume. She worked in-house at Prada, Versace, and Louis Vuitton, and she recently left her position as artistic director of Sonia Rykiel to launch her own line.
For her debut, she held an intimate presentation inside her home and gardens. She focused on dresses — perfectly fit for many red carpet moments to come. There were short sequined mini dresses styled with black opaque tights (which gave the overall collection a very French feel), flowy leopard print gowns, and elegant black and white maxi dresses with precision tailoring. What makes de Libran stand out as a designer to watch from couture week is also her process: she is mostly using deadstock fabrics and offering her pieces in limited quantities, many of them in multiple lengths so consumers can get a more customized look.
Aganovich
Emerging brand Aganovich is designed by writer Brooke Taylor and the Central Saint Martins graduate Nana Aganovich. This was the third season they showed their oft-cerebral collection during Paris couture week, and this season the designers explored anxiety: "From society, from being a woman, for loving other designers," as they told WWD. The duo took inspiration from historical silhouettes such as riding coats, corsets and evening dresses. Each model wore a head-to-toe white bodysuit that obscured their faces, though some were styled with contrasting accessories overtop, including hats and stacked dollar sign necklaces. That mix of otherworldly tailoring, surreal silhouettes and playfulness is what cements the label as one to watch.
Schueller De Waal
Philipp Schueller and Rens de Waal function as stylists, consultants for brands like Hugo Boss, and most recently, a designer duo. They staged their first formal fashion show during Paris fashion week for Fall/Winter 2018, and since then, their vision of fashion first and foremost, is positioned as a form of therapy. Specifically, promoting a positive outlook and using fashion as a potential catalyst for change. In fact, the duo's brand acronym, SDW also stands for Seeking Design Wellbeing.
This season, they've switched to the couture calendar (rather than the ready-to-wear schedule) and are attempting to promote a more sustainable and conscious way of looking at fashion, cleaning a street in Paris as part of their show in partnership with the French NGO Pik Pik Environment. "We were really inspired by the idea of looking at the shows of the big houses where there's always really big sets being built and a lot of money pumped into the shows, which is basically just about selling clothes," Schueller explains to TZR. "We wanted to create a show which would be about doing something for the location where it's held."
Pieces were inspired by updated uniforms and made from the studio's leftover fabrics, deadstock, and other remains from the fashion industry. Coats and capes were constructed out of a variety of patchwork fabrics, and the outfits were accessorized with brooms and trash bags. Through various belt loops and straps, each piece can also be worn or styled in multiple ways.
Flora Miranda
Futuristic designer Flora Miranda creates some of the most unexpected shows of Paris couture week. The emerging Austrian designer has shown American artist Signe Pierce dressed as a malfunctioned robot, scanned historical garments to recreate her own unusual designs, and used computer data to construct looks that question what haute couture is. This season, she took on some of her past concepts and used databasing and machine learning to teach computers about erotic clothing. The result is a range of mesmerizing patterns generated on colorful tulle dresses and gowns. And as usual, her presentation was every bit unconventional. A naked man wearing body paint was stationed spinning around the center of the room, while models walked around him and danced on small vibrating platforms — a performance inspired by the Austrian choreographer Florentina Holzinger. "I wanted to do something you wouldn't normally see, and put the man in the woman's place," she tells TZR.
Yolancris
Sisters Yolanda and Cristina Pérez founded their Barcelona-based brand in 2005. Yolancris creates edgy couture with a touch of craftiness and also has a strong focus on elevated and modern bridal-wear. For context: For Kim Kardashian's 2014 wedding to Kanye West in Florence, her bridesmaids Khloé, Kourtney, Kendall, and Kylie all wore Yolancris dresses to the ceremony. And the Kardashian family aren't the brand's only celebrity fans — Beyonce, Lady Gaga, and Shakira have also worn Yolancris pieces.
Last season, the duo presented at couture week for the first time and they took inspiration from their own roots. They aptly titled the last collection Opera Prima and brought together emblems and icons from Barcelona's historic art scene. The sisters looked to the facades of some of the beautiful architectural buildings for the inspiration of the structure and aesthetic of the dresses; The contrasting palette of muted neutrals versus electric pinks was also a nod to artistry and duality of their own vibrant hometown.