5 Under-The-Radar Designers From Budapest Fashion Week To Keep An Eye On
Courtesy Tomcsanyi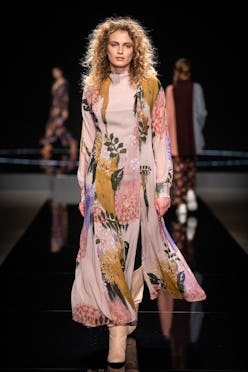 Budapest Central European Fashion Week isn't a name you often hear coming out of an industry insider's mouth. Though it hasn't gained the momentum of other international fashion weeks like Tbilisi, Stockholm, and Shanghai, fashion week in Hungary's capital is continuing to grow into a major event. It highlights not only local talent, but also designers from Poland, Czech Republic, and other central European countries. This season marked the largest fashion week to date, and Budapest's emerging designers are quickly landing on the radars of editors, influencers, photographers, buyers and stylists (even striking the interests of Diet Prada, who came to check out the landscape).
Budapest, known for its vibrantly colored mosaics, lavish bathing culture, romantic cityscape, and of course goulash soup, has an obvious influence on these designers. From sustainable materials to clever styling and folklore references, BCEFW garnered a diverse range of talent to watch.
The four-day event is hosted by the Hungarian Fashion Design Agency, in collaboration with Milan's Camera Nazionale Della Moda Italiana which has provided a select number of Hungarian designers with an international mentoring program as well as a collective fashion show during Milan Fashion Week.
Below, find a break down of a few key designers to watch right now, as they're poised to break out on a global scale.
The One To Know: ÁERON
Sartorially sophisticated, ÁERON is the work of Hungarian designer Eszter Áron who was born into a textile dynasty with generations of tailors — and her collection reflects just that. With such a strong identity, she focuses on reworking traditional tailoring techniques, employing luxe materials and designing with feminine-forward approach. Her Fall/Winter collection is a juxtaposition of the '90s flair of Budapest and the confidence of contemporary minimalism. Nostalgic fabrications like shiny lurex and crisp canvas are reinvented in modern silhouettes. The selection of denim, faux leather pieces, and oversized quilted coats are a buyer's first pick. ÁERON's clean-cut DNA, pleasing neutral palette and efforts towards sustainability make it a stand out in the Hungarian fashion scene.
The Retro Revere: Marco Rambaldi
Quirky yet cool, Marco Rambaldi's namesake collection is grounded in a strong feminine and fearless spirit. The twenty-eight year old Milan-based designer is known for his retro references, particularly his fascination with the '70s, as well as his artisanal aesthetic which comes to life through his use of crochet patchwork elements and colorful prints. Inspired by Marcella Campagnano's 1976 photo series "Roles," his latest collection highlights the distinct categories or roles imposed on women in today's society — wife, businesswomen, diva, etcetera. His cast of characters were dressed in psychedelic knits, large faux furs, tie-dye ensembles, bell-bottoms and mix-and-match textile combinations. Texture, color and feminist strength were all but lacking from his cleverly curated collection.
The One To Shop Now: Tomcsanyi
Prints, please. Playful freehand patterns and eye-catching color combinations define the Tomcsanyi aesthetic. In addition to its perfectly Instagramable prints, the heart of the brand emphasizes sustainability and local production. Collaborating with other Hungarian brands, manufacturers, and artists from time to time, Tomcsanyi focuses on the welfare of the people who produce the collection. The namesake Hungarian brand is the work of Dori Tomcsanyi, who personally designs all the graphics, often referencing the bygone days of Eastern European socialist era. To round out the collection, minimalist jumpsuits and wearable dresses are injected into the mix of seasonless prints. Tomcsanyi is carelessly elegant without lacking any curiosity.
Je Suis Belle's ethos is grounded in the arts. The Budapest-based design duo treat fabrics as their canvas, illustrating stories about their muses through laborious beading, embroidery and other ornate details all executed by hand. Their craftsmanship involves traditional techniques envisioned through a contemporary framework. When you walk into their recently opened shop in the heart of Budapest, it is as if you are entering an artist's closet; It is intimate, charming and creative. Recently, the label collaborated with Erika Marozsán, a Hungarian actress and New York-based artist who created illustrations on garments by "drawing" with a sewing machine. Additionally, the fall show featured an eclectic range of upcycled fabrications, colors combinations and silhouettes that came to compliment one another. The standout pieces were decadently ornamented coats and camo anoraks that are part of the brand's one-of-a-kind couture line, Curiosities. Though these museum-worthy pieces may have a steeper price point, they are true works of art — dare to say wearable sculptures. Je'taime.
The One To Watch: Cukovy
The Cukovy woman is strong, experimental and feminist-minded. Since the Hungarian brand was conceived in 2014, it has focused on delivering sustainable and innovative fashion with a rebellious vision. This season marked the introduction of a new creative director and direction for the brand — one that is forward looking, practical, and cool. Though it is still trying to clarify its newly found voice, there were several moments during the show that seemed to define the rethought Cukovy. The puffer pieces certainly stole the attention, with floor length silhouettes, corsets, interchangeable sleeves and reversible parts. The collection is much more streetwear focused than previous seasons, especially with the use of more technical fabrications and high-low combinations. Though this new chapter may seem slightly jarring to their loyal fanbase, perhaps they will be ready to embrace its new narrative. It certainly has room to evolve but its an exciting new start for Cukovy.