This Is The Surprising Runway Trend Fashion Insiders Will Wear In 6 Months
Courtesy of Dion Lee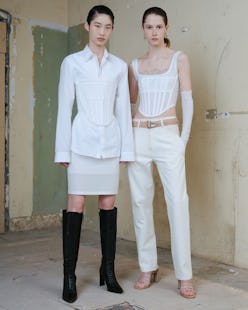 After a full calendar month of daily fashion shows, set against the backdrops of breathtaking cities like New York, London, Milan and Paris, it's not necessarily easy for a designer to come out on the other side with a collection or show that guests and fashion insiders would consider memorable. For that reason, igniting a spectacle — not only in the production of the show or presentation — but in the clothes themselves, the odds are surely better for those wanting to spur a cool trend or It-piece for Spring 2020.
From Tomo Koizumi's grandiose Spring/Summer 2020 New York Fashion Week presentation filled with fluorescent polyester organza dresses, to the chic albeit kitschy jeweled bras that appeared on nearly every model during the latest JW Anderson show, pieces that evoke both excitement and a sense of unease at the same time almost certainly keep people talking.
And while buzz and spectacle qualities don't always translate to actual wearability, they certainly aren't mutually exclusive. Take the fact that some of the most polarizing fashion from this season — taboo references, intentionally mismatched clothing, and intimidating proportions — have ignited the interest of industry insiders to take actual risk when it comes to getting dressed.
Ahead, five fashion industry tastemakers reveal what trends and looks from the Spring 2020 runways that they were most surprised to be excited about, and how they plan to ease their way into the look for good.
Marie Antoinette-Inspired Dresses
"It may not be the most wearable trend, but I'm so enamored with the Marie Antoinette-inspired dresses I saw at Christopher John Rogers and Marc Jacobs in New York," says Jessica Andrews, Fashion Features Director at Refinery29. The exuberant styles are surely more dramatic than the prairie dresses that have infiltrated fashion over the last few seasons, but that's what makes them all the more intriguing and fun to wear. "To make them more practical and edgy, I'll style them with sneakers or chunky boots."
Modern Corsets
For Teen Vogue's fashion and beauty editor Michelle Li, the taboo corset style casually making its way into very public outfits — and runways — was too hard to ignore after this season. After seeing them on the runways of Charlotte Knowles, Dion Lee, and Brock Collection, she nots that she's inspired to try it herself. "I'm so excited to really dig into corsets for spring," she says, noting one of Miaou's popular styles is already in her rotation. "I want to expand into other prints and finding fun ways to layer them. I think it's a cool way to add structure to an outfit. You can really dress it up and down and this spring I think we'll be seeing a lot more than your classic lace corset too."
Print Play
"I noticed a ton of unexpected layering and print clashing this fashion month," notes Alyssa Rara, Talent + VIP Relations Manager at REVOLVE and FORWARD by Elyse Walker. "I usually go light on the layers living in Los Angeles, but I was especially inspired by how Y/PROJECT and Paco Rabanne paired different fabrications and silhouettes together. I'm excited to dig up some summer dresses and make them feel new again."
Waistcoats
"I was most surprised by how compelled I was by all the waistcoats," says Harling Ross, fashion director and brand strategist at Man Repeller, of the '70's inspired garment. "I spotted them at Celine, Max Mara, Gucci, Louis Vuitton, and Marc Jacobs among others, and each sighting chipped away at my preconceived relationship with this particular item. I want to wear one as a top, nothing underneath, plus a matching blazer and a flower corsage."
Hot Pants
"I haven't worn shorts since middle school (I prefer skirts and dresses) and I've definitely never considered walking out of the house in what are essentially briefs," shares Leah Cooper, editorial director at The Coveteur. "But those hot pants at Brandon Maxwell? Sign me up! Maybe underneath a sheer skirt, though—I prefer not to be totally exposed, and I need to be able to sit down on the subway."