4 Ukranian Brands You Know But Couldn't Name Until Now
Courtesy Ksenia Schnaider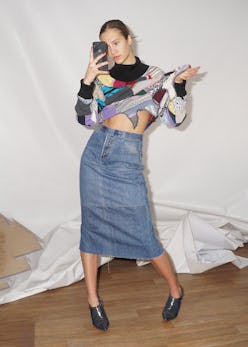 So many off-the-radar fashion weeks happen around the world, it's a challenge to keep up with them all. Cities ranging from Tbilisi, to Tokyo, and back to Copenhagen showcase new talents and covetable pieces that are completely unique to their retrospective cities. That being said, one of these global fashion weeks brimming with cool emerging brands is Ukranian Fashion Week, which takes place in Kiev, the country's capital. Ukraine has hosted fashion week for longer than you may realize — 22 years, to be exact. The shows are traditionally held just a few days before New York Fashion Week begins, and welcome some of Ukraine's most popular designers along with new and fresh faces who are making their own marks.
As a country, Ukraine struggles with the politics of being a post-Soviet nation, and it's a topic that is often referenced in the collections of the designers there. At Ukrainian Fashion Week, designers are dedicated to merging traditional crafts, such as embroidery and textile printing, with modern concepts such as artist collaborations or repurposing vintage denim — a fabric that used to be near-impossible to find in Ukraine 30 years ago.
Though Ukraine fashion week may not be as widely known as Paris or Milan, many of the coolest emerging designers are actually already stocked on some of your favorite retailers. In fact, you've likely scrolled by their pieces while checking for new arrivals. Here, a few brands you can shop directly from the runways of Kiev.
Lake Studio
Founded in 2014 by Olesya Kononova and Anastasia Riabokon, Lake Studio's signature pieces are slip dresses, feminine tailoring, and plenty of art collaborations. This season, the duo staged their show in a sunlit building in Kiev's Poshtova Square, one of the oldest historic areas in the city. The designers took inspiration from the engravings of Chinese artist Zhāng Dàqiān, and sent out an array of one-size pieces that can be adjusted based on a series of ties. "In our new collection we are trying to put out an idea of a comfortable beauty," explains Kononova. The collection also included a bevy of jewelry and hair accessories made of malachite, turquoise and river pearls. Since last year, the brand has been sold on Moda Operandi.
Ruslan Baginskiy
You've probably seen Ruslan Baginskiy's hats on one of your favorite stars, or, at least on their Instagrams. In fact, the Ukranian millener has outfitted so many celebs (Bella Hadid, Alicia Keys, Madonna, Miley Cyrus) that it's become nearly impossible to name them all. Baginskiy launched his line of hats in 2014 in Kiev and has since become well-known for his straw pieces and baker boy caps, inspired by train conductors. "Right now, it's a trend in Ukraine to be sustainable," says Baginskiy. "We produce everything in Ukraine and we know every single person who makes our pieces." This season, the designer did one-on-one appointments in Kiev with international buyers and press in preparation of hosting at presentation at Paris Fashion Week, too. You can find his pieces at MatchesFashion, Net-a-Porter and Moda Operandi.
Poustovit
Lilia Poustovit's Kiev-based womenswear label has been showing on the official schedule of Ukrainian Fashion Week since its inception in 1998. And although you may not have heard of her yet, she's regarded as one of the most famous designers in Ukraine since she began designing in the early '90s. The designer herself says that her shirt dresses are her signature pieces. "It is the balance of female sensuality and male power, innovation and comfort, as it is shown in elegant suits and simple sundresses," she notes on her website of the signature silhouette. Poustovit's Spring 2020 collection was full of reinvented shirt dresses, crochet overlay, puff sleeve dresses and elegant shibori prints. Her pieces are available at The Place London and YOOX.
Ksenia Schnaider
Some might call Ksenia Schnaider the most popular brand in Ukraine right now. Though she's branching out into other styles such as sporty, neon dresses, Schnaider and her co-founder husband Anton Schnaider have become iconic for their unconventional denim pieces. Think: asymmetrical jeans, or Demi Jeans which look like shorts layered over pants and have been worn by Bella Hadid. "For me, I'm a denim girl, I wear denim seven days a week," she says. "So, it was super organic to start using this material." Schnaider also works with denim to create unusual effects, such as a manipulation technique that makes it look like faux fur. She often uses leftover scraps and recycled materials from the largest Ukrainian textile manufacturer, Rito. Schnaider typically shows on the Ukrainian Fashion Week schedule, but this season, like Baginskiy, she opted to do appointments. She has over 50 stockists around the world, but some of the most prominent options range from Neiman Marcus, to Bloomingdale's, and Shopbop.