This Throwback Jewelry Craze Is Back, And Fashion Girls Are Obsessed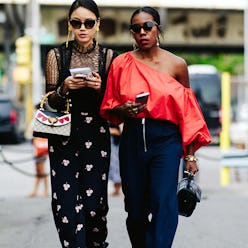 Oh, nostalgia. We simply can't seem to get enough of it in the fashion space these days whether it's a puffy-sleeved dress, teensy pair of sunglasses or pastel chino pant (just to name a few recent hits). As far as jewelry is concerned, a certain look circa your early teen years is back: shell jewelry. We know, take it in.
As a child, you likely collected seashells at the beach (this writer conducted an entire first-grade research project on the subject that now hangs in her father's garage) and you most certainly rocked a puka shell choker in middle school. Right?! Just us?
Now, shell jewelry has taken on an elevated aesthetic—recently appearing on designer runways like Prada, 3.1 Phillip Lim and Zimmermann— from little cowries to statement cone and cockle shells. Whether as dangling earrings, a bold pendant or dainty bracelet, shell jewelry brings a lighthearted vibe to any look—a chirpy update to your jewelry collection for summer.
As for why this type of cheerful jewelry is making its way to the mainstream? Chock it up to buzzy designers like Roxanne Assoulin and Susan Alexandra who've championed a sort of handicraft accessories look that's almost cheesy, but absolutely not. It's incredibly fun and lively, which is what fashion is all about, right?
Here, shop our edit of seashell jewelry for summer, from under-$10 finds to designer renditions.
Stylish Shell Jewelry
Golden shell hoops that can go from work to weekend.
The modern version of your middle school puka shell choker.
We're of the mind to pile on a few shell bangles like this one.
Layer this long pendant with a few other necklaces.
Of course, Roxanne Assoulin makes a beaded shell necklace. The most fun.
Whether as a single strand or a few at varying lengths, these strands are f-u-n.
Choked By A Thread, Shell Chain Necklace, $85
For the woman without ear piercings, these clip-ons are bold.
Embrace the single earring trend with this special shell, complete with a Swarovski stone.
Isabel Marant's assortment of shell jewelry has been selling out everywhere. Scoop up this shell-embellished bracelet stat.
We love these with a crisp white top.
This cowrie bracelet brings a summery vibe to any wrist.
This drop ear cuff is straight from the Zimmermann runway.
Jewelry designer Ryan Storer collaborated with Australian label Albus Lumen to create a collection of modern shell jewelry. This asymmetric earring set is a particular stand out.
These dainty cockle shells come with a bit of movement.
For a modern spin, we love this pendant by the Oslo-based jewelry brand.
It doesn't get beachier than light-washed wood—Swarovski stones bring the glamour.
For a luxurious take, this genuine Merco shell is finished with a dark-blue lacquer on an 18kt yellow-gold chain.
This shell-shaped single onyx earring is encrusted with a wee diamond.
This bold bracelet is a shell collector's dream.
Fun fact: the cowry shell is thought to represent strength and female protection.
A woven cord gives this playful pendant an especially nautical feel.
Engrave this elegant necklace to your liking for an extra-special touch—made from reclaimed gold and conflict-free diamonds.