38 Sophisticated & Comfortable Clothes For Hot Weather You Can Get On Amazon Prime
janifest/fotolia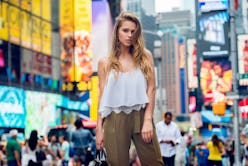 Too often, summer heat and humidity push even the most style-conscious women to abandon all hope of looking polished. When temperatures are soaring and the moisture in the air feels like a physical entity, comfort starts becoming prioritized over fashion. However, it is possible to find clothes that both look sophisticated and feel comfortable in sweltering hot weather. In fact, Amazon Prime is a little-known gold mine of elegant pieces that are as comfortable and breathable as your favorite nightgown.
In case you don't have the time to spend searching for stylish summer clothing that you'll actually want to wear, you'll find a curated selection of warm weather essentials, below. From timeless staples that go with everything in your closet to statement-making pieces that are an outfit all on their own, there's a wide range of styles to suit anyone's taste: muted basics for minimalists, flirty florals for those who love color, and and some updated takes on professional-wear that'll take you from the office to cocktails without breaking a sweat. These clothes do have one thing in common, though: they all make it incredibly easy to stay both chic and comfortable in hot summer weather.
So no more excuses — keep clicking to discover some of the best summer clothing you can buy on Amazon.