31 Viral Pieces On Amazon That You'll Wear Again & Again
Shutterstock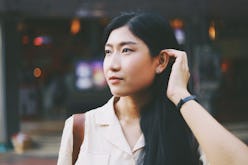 Chances are, if you love fashion, you've experienced buyer's remorse at one point or another. Taking risks is essential to developing great personal style, but that doesn't make a closet full of barely worn pieces feel any less disappointing. Luckily, there's a secret weapon to help you find clothing you'll actually end up reaching for: Amazon. There are actually tons of viral pieces on Amazon that you'll wear again and again — and to find them, look no further than this list.
Even though it may not feel particularly intuitive, there are actually several reasons to turn to Amazon for your fashion needs. The online retailer's wide selection of brands and vendors makes it easy to compare similar pieces side by side, and their enormous network of brutally honest reviewers can be counted on to report how a piece actually looks, fits, and feels.
Plus, if you have Prime, you're in luck — much of Amazon's fashion selection is eligible for Prime Wardrobe. If you're not familiar, Prime Wardrobe is a feature that allows you to try out eligible items for an entire week before deciding whether they deserve a permanent spot in your wardrobe. After the trial period, returns are free — you'll only be charged for the items you love enough to keep, eliminating much of the risk factor inherent to shopping online.
So go ahead, keep scrolling — and rest assured, none of these pieces will end up collecting dust in your closet.