31 Genius Spring Outfit Ideas Fashion Insiders Will Be Wearing This Month
modedamour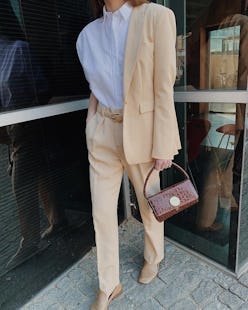 Welcome to May, the month when your allergies may be giving you plenty of grief (oh, the wonders of Zyrtec), but you're finally ready to start having a bit of fun with your wardrobe again. You've finished up your spring cleaning, and with your closet pared down to the pieces you truly love, you're ready for some new ways to wear them (along with a bit of trend shopping). So, right about now is when a bevy of easy spring outfit ideas for May would come in handy. Ensembles you can easily put together on your own, but look impressively put-together despite their next-to-no lift.
One rule to live by this month: Prepare for unpredictable weather. Snow flurries might be squarely in the rearview mirror, but expect temperatures to fluctuate wildly day to day. Keep an umbrella handy too, because nothing ruins your mood and a cute ensemble than an impromptu shower. Now, get ready to swap out those heavy winter layers for lighter, fresher takes on outerwear and start to add in a few of those key summer pieces, too. And keep in mind: While you're not quite out of transitional dressing just yet, you're well on the way to warm weather. All the inspiration you need you can find below.
As temperatures rise, consider replacing your go-to trousers with a pair of cool bike shorts instead.
Breathe new life into your classic black staples by styling them with a punch of neon.
Break out the white jeans — even if memorial day is still weeks away.
Lean into the season's colors with bold accessories.
Show a bit of skin at any upcoming weddings and opt for a dress with a cool back cut-out.
Dare to try something sheer by layering it over a crop top or simple tank.
For a night out, go bold and give print-mixing a try. Since you don't need a jacket, try something with sleeves instead.
For an unexpected styling trick, tuck your fitted jacket into a cool pair of trouser shorts.
Break out a dress usually reserved for special occasions and give it an everyday twist by styling it with simple, flat sandals.
Don't be afraid to go bold and wear coordinated color from head to toe. Finish with streamlined accessories like cool sneakers and a clear bag.
Give a favorite dress a fresh twist by styling it with a belt bag layered over the top.
Embrace the neutrals trend by wearing subdued tonal hues from head to toe.
Combine a t-shirt with a statement-making animal print skirt for an ensemble that's cool without coming off as stuffy.
A breezy white dress is the ultimate summer style, but ease into it by pairing it with all-weather boots.
Want to add instant interest to a look? Try adding a bold statement belt.
Pair a long dress with a tall boot for a layered look that is not only appropriate for all types of weather, but looks sophisticated too.
Want to instantly dress up your athleisure? Try throwing on a blazer.
Try a monochromatic look that's still made of summer staples. It's breezy but feels a bit more polished and streamlined.
An easy way to tackle spring layers: pair a sleeveless dress with a dramatic balloon-sleeved top.
Calling it: cow print is the new leopard. A cool maxi skirt styled with a neutral sweater is the ideal way to tap into the trend.
Don't keep your slip only for after hours, bring it into daytime by styling with simple, strappy sandals.
For a more eye-catching take on the neutrals trend, play with prints like a fun polka dot.
Carry knitwear into spring by opting for bold color-blocking. Style with a pair of statement trousers and it's a fun weekend look.
To instantly up the sleek factor of a button-down and black jeans, try styling with a sophisticated leather bag.
Go bold and style a breezy floral dress over your favorite dark denim. Bonus points if you finish with a colorful bag.
Ready to switch up your jeans-and-tee formula? Try instead styling your usual sneakers and t-shirt with wide-leg trousers and a sleek blazer.
Your usual button-down will feel fresh once again if you try mixing things up and tying it at the waist. Style with a sweeping maxi skirt and sandals.
Suiting can be notoriously stuffy, but worn with a pair of chunky dad sneakers, it's a more laid-back look.
For a fun transitional date night look, go for the unexpected. Style a sleek dress with a chunky pair of statement sandals.
Suiting in the form of a blazer and long shorts will be the next must-try look for a creative office. A bold color like burnt orange is punchy enough to grab your boss' attention.
Ready to embrace full-on color? Try telling a story with your look and wearing warm tones head to toe.