What I Absolutely Love About Being Single During The Holidays
Melodie Jeng/WWD/Shutterstock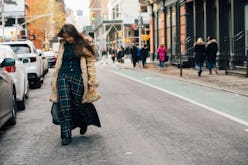 If the holiday season had a fan club president it would most likely be me. Yes, as soon as October hits and Halloween movies begin rolling in on streaming services, I become a constant ball of energy right through December. There's something about this season that brings every emotion to the surface — both the good and the bad. Yes, with the positive, sometimes comes the negative. Throw in being 30 and single during the holiday months, and you've got yourself a nice little cocktail of feelings that I literally experience annually.
Now, to be clear, I like to think of myself as a glass-half-full type and keeping my mind set on the positive that comes with the cold-weather months is typically my default — and I take the necessary steps. I listen to holiday music way too early in the season, put my tree up in early November, bake constantly, and simply soak in the freedom and contentment that can come from these little holiday moments in solitude.
There's also a hope and depth that comes with this time of year that I find intoxicating. I love the self-reflection and mental yearly recap that so often reminds me how lucky I am to have my current life status and, more importantly, fills me with hope for what can come in the New Year.
According to Houston, Texas-based professional counselor Alelia Watson, the pros I just mentioned just scratch the surface of the opportunities available to those who find themselves solo for the holidays. "You can travel with no obligation of a spouse," she explains. "You can also prioritize connecting with family and soaking in the support and encouragement that can come from them."
And as fulfilling as it can be, Watson explains that the latter point can be bittersweet in that families can sometimes trigger some of the not-so-warm-and-fuzzy holiday moments, particularly for unattached individuals. "I think single women in their 30s and older often have to deal with families asking questions about kids and marriage more than any other time of the year," she explains.
I've experienced these rapid-fire questions firsthand as I've gotten older. One memory in which an unfiltered uncle of mine insensitively referred to my ticking biological clock sticks out in my mind. (Last I checked, the term "biological clock" had been long exiled to the 1950s where it belonged.) And I can always count on my well-intentioned grandmother to strike up a deep conversation about marriage and my assumed aversion to it. (To be clear, I'm fine with the prospect of marriage, I just haven't partaken yet.) This is definitely an aspect of the holiday months I don't particularly enjoy.
Another rather unpleasant component comes in the form of good ol' loneliness — because I'm human. Amidst feel-good holiday films like Love Actually and Bridget Jones' Diary, which are basically aired on repeat during the months of November and December, it's only natural to feel a tinge of disappointment, and I'm no exception. I look forward to enjoying the holidays with a loving partner, and sometimes (I repeat, sometimes) the desire to have that presence in my life can be, well, very present. Damn you, Colin Firth. Damn you.
One thing that has helped me navigate the occasional low moment has been plain practicality, and the realization that some of these bouts of sadness and moodiness aren't necessarily about my relationship status at all. "Holiday blues are actually often a result of the weather change and lack of constant sunlight," says Watson. Throw in sugary, processed holiday foods that are also proven to have an impact on your mood, and you've got an emotional recipe for disaster. "All these things can absolutely affect your mental state," she explains. "They can stop you from being physically active as well, which can perpetuate the moodiness."
And while you can't control outspoken relatives from giving you their two cents on life, you can definitely take some steps to protect your emotions and mental state. "I always advocate for self-care," suggests Watson. "Also positive affirmations in which you encourage yourself and say 'Yes, I'm single, and while not all the goals I wanted to accomplish have been done just yet, I'm still capable of doing them in my own time.'" The counselor also suggests physical self-care in the form of eating healthy, exercising regularly, and getting the proper amount of sleep.
For me, I've found a little self-awareness is the key to maintaining my holiday happiness. Appreciating the current life I'm living and seeing it as an opportunity (as opposed to a hindrance or waiting room) keeps my confidence up and makes me want to keep the Mariah Carey holiday album on repeat.