30 New Natural Hairstyles To Try For Every Day In June
Dia Dipasupil/Getty Images Entertainment/Getty Images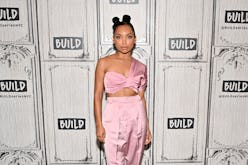 Once June hits, I always find myself using my Google Calendar app way more than usual because every time I turn around, there's another beachside weekend, barbecue, or vacation happening. With an overflowing social calendar, the last thing anyone wants to do is stress out about what to do with their hair — especially naturalistas. When you wear your natural curls, you can't just haphazardly dive right into a pool without getting your curls or coils tangled. That's why I'm so happy that the new natural hairstyles for summer I've spotted on celebrities like Ciara, Lupita Nyong'o, and Logan Browning include box braids, cornrows, and updos that preserve the health — and the look — of my hair.
Before getting any protective style, hairstylist Yene Damtew (who works with Michelle Obama) encourages you to "find a trusted braider to protect your hair, and definitely use pre-stretched braiding hair to give you a natural finish," she tells TZR. And if you ever get bored of your braids or twists after a while, hair accessories are still a major trend that anyone can get in on. Just clip in a couple of barrettes or filigree tubes, and go. But if you're not into the idea of an eight hour appointment in the braiding chair on a sunny day, there are still plenty of styles you can try, no matter what your length and texture is. See the looks ahead, and start bookmarking (and booking!) ASAP.
Defined Curls and Solo Cornrow
"Curls > everything," Yara Shahidi captioned her May 15 style, done by celebrity hairstylist Monae Everett. For ultimate curl definition, section wet hair, apply a lightweight cream, and air dry overnight.
Pinned French Twists
Shahidi's French twists, created by Nikki Nelms on May 17, are super easy to recreate — just grab a couple safety pins and put them in your braids in a criss cross shape. (Just take them out before bed to avoid any accidents.)
"Hair-rings"
To recreate this May 15 look, also done by Nelms, you'll need a hair needle and thread to sew the end of your braid to its base. Use a bit of holding gel on your hairline to slick your baby hairs down.
High Loc Bun
Celebrity hairstylist Nai'vasha Johnson assembled Sasha Blane's locs into a high bun for the Met Gala on May 6, with pearls wrapped around for a bit of whimsy.
Voluminous Curls & Side Part
Angela Bassett's upped her glam for Mother's Day on May 12 with the help of hairstylist Lacy Redway, who gave her super defined curls and a deep side part. To achieve her look, wrap small pieces of hair around a curling wand and spritz holding spray all over to lock everything into place.
Goddess Locs
Tamera Mowry gave her curls a break and opted for some gorgeous goddess locs, done Dr. Kari Williams, on May 5.
Embellished Loc Bun
To give your faux locs some sheen, spritz a light oil (like the Maui Moisture Oil Nourish and Moisture and Coconut Milk) from root to tip. Nelms, a Maui Moisture ambassador, used the product on her client while on set for a May 18 project.
Afro Puffs
For her first Met Gala look on May 6, Ciara took it back to the '70s with two larger-than-life Afro puffs and her edges slicked to perfection by César DeDeLeön Ramirêz, using the Baby Tress Edge Styler.
Textured Afro
Continuing the theme, Ramirêz created a custom 'fro for the singer parted down the middle (using Unite Hair's Go 365 Hair Spray) and secured it on the sides with sparkling emerald green hair clips from Peter Dundas.
Cascading Micro Braids
Change things up from black braiding hair and go for some color, like Yvonne Orji did on May 4. Spritz braid spray on your scalp every couple of days to keep it itch-free while wearing protective styles.
Sculptural Updo
Willow Smith's locs, styled by Vernon François for the Louis Vuitton Cruise presentation on May 14, featured silver wiring weaved throughout.
French Twist and Ponytail
And for the premiere of of Aladdin on May 24, François twisted some of Smith's front-facing locs to the side and used bobby pin to secure them. Then, he pulled the rest of the tendrils up into a high pony fastened with a jeweled scrunchie.
Ombré Twists
Take note a page from Brandy's book: flowy twists (like these, done by Dr. Williams) in brown and blonde braiding hair are an easy way to brighten up your face.
Low Pony With Middle Braid
The braid going down H.E.R.'s center part adds character to her sleek low ponytail, which she wore for a performance on May 13.
Knotless Box Braids
Then she changed it up and debuted these beautiful knotless box braids on Instagram on May 26. They're perfect example of a fresh, easy style for the summertime.
Voluminous Jerry Curls
Shelby Swain, the self-proclaimed "Beyoncé of baby hair," shared a behind-the-scenes shot as she styled Lizzo's voluminous curls before a May 26 show.
Fluffy 'Fro
Jennifer Hudson held center stage at Live in Front of a Studio Audience: Norman Lear's All in the Family and The Jeffersons on May 23 with a retro Afro done by stylist Kiyah Wright.
Faux Locs Embellished With Pearls
Further proof that you can never go wrong with pearl accents. Lupita Nyong'o's gorgeous low embellished low pony (done by Redway) matched her outfit on May 21.
Long, Sleek Cornrows
Tracee Ellis Ross was a literal work of art at the 2019 Met Gala with gold picture frame around her face (in homage to artist Lorraine O'Grady) and waist-grazing cornrows by Redway. While wearing cornrows, periodically moisturize your scalp with oil to avoid dryness.
High Ponytails & Sleek Edges
Celebrity hairstylist Kahh Spence gave Ella Mai double ponies on May 24, accented with swooped baby hairs.
Cornrows & Braided Tendrils
Taraji P. Henson looked summer-ready with her cornrows and long braided tendrils on May 20.
Textured High Ponytail
Right before getting her braids, celebrity hairstylist Tym Wallace gave Henson this stunning textured pony for the FOX Upfronts on May 14.
Bantu Knots & Loose Curls
At the 2019 Shorty Awards on May 5, Marsai Martin looked regal with her crown of bantu knots.
Fishtail Braid
Some rogue brown beads brought some character to Gabrielle Union's fishtail braid, assembled by Larry Sims for an event on May 4.
Embellished Curly Ponytail
Sanna Lathan's glow was out of control while wearing this gold accented ponytail, styled by Kim Kimble on May 3.
Soft Finger Waves
Logan Laurice looked every part the old Hollywood diva with her soft waves, styled by celebrity hairstylist Annagjid "Kee" Taylor on May 16. Using the end of a rattooth comb to form the waves (while hair is damp with product) is key for creating a style like this.
Curly High Top
Laurice displayed the versatility of short hair with this throwback style, done by Johnson for a taping of Late Night with Seth Meyers on May 21.
Stacked Buns
Three buns were better than one at a press junket on May 22 for The Perfection.
Cornrows and Braided Bangs
Danai Gurira brought old Hollywood glamour (courtesy of Sims) to the 2019 Met Gala on May 6 with cornrows and braided bangs, accented with black beads peaking out of a top hat.
Goddess Box Braids
Jhene Aiko's looked ethereal on Instagram on May 15 with her goddess braids and wispy strands molded along her hairline. When your scalp feels greasy, a little bit of dry shampoo at the root is a godsend.