These Are The Denim Trends To Know For Fall, According To Zara's New Arrivals
ZARA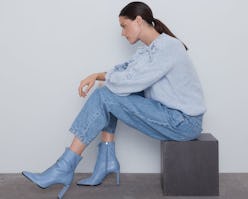 Welcome to high summer, when the temperatures begin to soar, and just the thought of denim may leaving you sweating more than you already are. However, though slipping on a pair of jeans may the last thing on your mind right now, retailers like Zara are already serving up fresh styles to outfit you when the cooler weather does come. And considering the fall 2019 denim trends the retailer is betting big on right now include more relaxed fits and roomier cuts, you may find you'll be more inclined to work these into your wardrobe sooner rather than later.
Right now, Zara's new arrivals include a slew of denim; however, within the mix there are three standout moments: ripped detailing, wide-leg styles, and slouchy, trouser-like silhouettes. Making these styles even better is the fact that they all ring in for under $100, so you can plan on bringing a couple new pairs into your closet without breaking the bank.
Out of the trends, arguably the most exciting in the group is the slouchy styles that have a trouser feel. If you're not sure what this looks like, exactly, peek at the $49.90 Slouchy Z1975 Jeans With Darts and this baggy high-waisted, belted pair for $39.90. Both of these styles find the balance of being both polished and laidback, which brings a refreshing twist to the wardrobe staple.
Meanwhile, the jeans you're likely to wear first are the distressed, ripped styles, given their built-in airy design. So while you're probably going to be turning to breezy and floaty skirts dresses for a little while longer, once the steaminess dials back, you can plan to match up the ZW Premium Straight Jeans In Misty Blue, $69.90, with a white blousy top and a set of barely there sandals.
As for the wider-cut silhouettes? Zara brought trouser detailing to them as well, which resulted in styles like the ultra-chic, pleated ZW Premium Wide Leg Jeans for $69.90. Additionally, the retailer added a dose of neutral, earth-tone color to cuts like the Straight Leg Jeans, $49.90, which gives them a more elevated feel that can be dressed up or down.
Continue on to see key denim styles from Zara's new arrivals to start stocking up on now.
Ripped Detailing
Slouchy & Polished
Wide-Cut Legs