Patagonia Obsessives Will Love These 3 Outdoorsy-Cool Brands
Courtesy of AETHER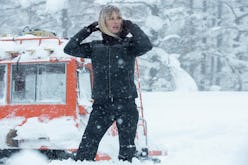 As festive as a fresh snowfall, outdoor ice skating adventure, or stroll through ornamented streets can be, the reality of being outdoors in the winter is often brutal. For those who regularly lace-up for brisk runs or take a few trips to the mountains each season, a wool coat and knitted accessories aren't going to cut it. If you're one of the many outdoors-minded individuals who stocks up on Patagonia fleeces and Nano Puffs for winter, you're not alone. The brand has earned a cult following for its outdoorsy staples (and its commitment to sustainability too). But, if you're ready to mix thinks up, there are other outdoorsy-cool brands like Patagonia that are great resources when it comes to getting dressed for a winter activity — whether you're gearing up for a ski vacation, took that risky table outdoors for a holiday brunch, or are working on your fitness in the open air. And no, you won't look like you're about to summit Mount Everest.
For the active winter outdoorswoman, Eddie Bauer is a go-to for winter-proof pieces from parkas to fleece and cold-weather accessories like gloves, hats, and scarves. Lynsey Dyer, an Eddie Bauer professional skiing athlete — she accompanied Mandy Moore during her trip to Mount Kilimanjaro — says it's all about technical layers. "I often wear a non-cotton base layer, then a mid-layer piece under my BC Fineline Jacket and Bib. The bib pants are stylish and keep your booty warm and dry," says Dyer. "I like to accessorize from there with super-fun sunnies and my favorite slouchy hat."
If you're not scaling a mountain, running a black diamond, or going on a wintry hike, an insulated jacket and base layer can look low-key cool with a pair of high-rise jeans, combat boots, and a full-length duster coat in the city. Not only will this outfit give off a trendy gorpcore vibe, but you'll be ten times warmer than your friends who opted for a thin T-shirt under her parka.
For avid skiers, snowboarders, and hikers looking for a sleeker take on winter performance wear, AETHER offers outerwear, knits, base layers, and more, all of which look at home in the city but are built to withstand the outdoors. "[The] down-insulated Nordic Jacket is great because it has a high neck for really cold days but a flattering fit so you don't look puffy when you're on the slopes," says Sari Tuschman, AETHER's vice president of brand, adding that "the lightly insulated Nell Jacket is great for hiking or anything where you will likely sweat. It will keep you shielded from the elements, but it's not so warm that you will overheat." For a combo of tech and fashion, Tuschman recommends The System Pullover. "The oversize down-filled collar is warm but also adds a little drama to the silhouette, and the luxe double-knit fabric has a hint of technicality while also being flattering." While each of these pieces hold up to the elements with snow boots and snow equipment, they're ultra-stylish enough to wear with a range of winter wardrobe staples like jeans, ankle boots, trousers, and polished coats.
You may fall into the category of cozy-cool workout enthusiast. Not sure? If you regularly lean on fleece-lined leggings and comfy pullovers, then, yes, you fall into this camp. Outdoor Voices' new winter collection was practically designed for you, from the cult-loved MegaFleece (which sold out but you can jump on the waitlist) to the moisture-wicking half-zip. "We created the OV Outdoors Collection — warm cozy layers — to keep you outside longer as the weather gets colder," says Ty Haney, Outdoor Voice's founder and chief operating officer. "The MegaFleece sold out almost instantly and is an awesome style in candy colors made of recycled Merino wool that's reminiscent of a nostalgic fleece your dad wears. The OVFleece is a great mid layer with a really nice interior OV logo grid pattern that enhances breathability." On icy-cold runs, don't forget the insulating accessories like tech-friendly and reflective gloves and a moisture-wicking beanie.