Here's What To Gift The Fitness Lover In Your Life
Courtesy of Outdoor Voices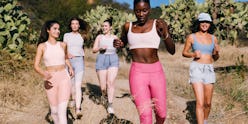 Everyone has a fitness-junkie friend, relative, or co-worker in their life — there's the serial SoulCycler, the hot-yoga fiend, the cross-training marathoner, the ClassPass addict, the outdoor adventurer, and so forth. When it comes to gift ideas for fitness fanatics, these workout enthusiasts deserve more than a gift card to their favorite fitness class — though they certainly won't be saddened by an extra sweat session on you. Instead, stylish activewear and accessories make for a stand-out holiday gift, especially if they're as driven by fashion trends as they are wellness.
For the fitness-fashion friend, everything from metallic fabrics to neon colors and so-now seamless activewear will suit their sartorial tastes. To and from workouts, athleisure-inspired accessories and sporty-chic third pieces like cropped jackets and fleeces are covetable items sure to top this type of fitness fanatic's holiday wish list.
"I love the bum bag trend," says Jennifer Bandier, founder and owner of her namesake luxury fitness boutique, Bandier. "These bags are super practical for people who lead active lifestyles. We created an exclusive Bandier x Fila fanny pack as part of our archival collaboration with Fila." Stylish fitness gear also makes for a great stocking stuffer or gift idea for the fitness guru on the go. "One of our instructors, Amanda Kloots, created an amazing rose-gold jump rope," says Bandier. "It's easy to pack when traveling, and it's the best way to get in some good cardio."
Stephanie Dardenne, director of merchandising for the high-fashion fitness retailer Carbon38, is for metallic activewear as a festive gift for fitness lovers. "When I give a gift, I make sure to gift something that I am absolutely obsessed with and right now I can't live without my Beyond Yoga Alloy legging-and-bra set. The fit and fabric is incredible, and the alloy design makes the pieces feel very festive."
Dardenne also recommends a high-tech gadget like the Hypervolt massager for the techie-fitness fiend. "It's an absolute must-have on your gift list this year," Dardenne says. "I'm a fitness enthusiast and this is the best piece of active equipment I have purchased this year. It allows me to recover more quickly and head to the gym more frequently. It has sold out many times on Carbon38 (back in stock now!) and is a company favorite at the headquarters."
For the fashion-influenced fitness fan who truly loves breaking a sweat, a personalized activewear set is an especially thoughtful gift. "The OV Kit is our essential outfit for exercise," says Ty Haney, the founder and chief operating officer of the cult-loved activewear label, Outdoor Voices. "You get to pick a top and match a bottom to create a $95 outfit of your choice that can take you to your boxing class, on a hike, to the dog park, and more."
Then there are the active adventurers who burn their calories outdoors with activities like hiking, kayaking, and mountain climbing. Performance gear that can stand up to the elements is a gift sure to impress these adrenaline junkies. "The Eddie Bauer Alchemist 40/55 pack is definitely a fail-safe item that any outdoor enthusiast would love," says Eddie Bauer skiing athlete, Lexi duPont. "It's just what you need for a day in the mountains whether you're an avid ice climber, hard-core ski mountaineer, or weekend warrior that likes to scamper up ridge lines and have picnics on mountain tops."
From luxe leggings to (pretty) performance tops and sporty accessories, ahead, shop the edit of gift ideas for every type of fitness fanatic on your list.