22 Gifts For The Mom Who Doesn't Want Anything (Or So She Says)
Courtesy of Michele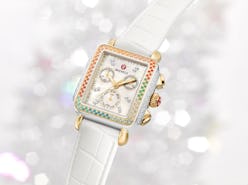 Shopping for your mom may already be a tricky task, and if she's now come to the conclusion that she doesn't want anything for the holidays for reasons unknown, well, that can make it even harder. And, while you want to deliver upon her request, there's still something to be said about seeing her unwrap a present you've picked out especially for her. So, if you're on the hunt for gifts for the mom who doesn't want anything, TZR has rounded up a list of thoughtful ideas that will (hopefully) make her glad you went against her wishes.
Presents that have an element of comfort are a good way to go if you're not sure where to begin shopping. Though mom may not be asking for a fresh set of pajamas, there's no doubt she'll be very pleased to receive this luxe silk set from Olivia von Halle, $490. Similarly, a cozy pair of slippers is a must-have item for the coldest months of the year, and this chic, shearling duo from Sleeper for $390 is sure to get a lot of wear this winter.
You can also go the route of picking up a gift that'll replace an item in need of a refresh. If your mom's luggage has seen better days, consider scooping up Away's Bigger Carry-On for $245 before she heads off on her next adventure. On that same note, if she's been carrying the same wallet around for years, it may be time for an upgrade, in which case, treat her to this timeless, red Gucci style.
And as much as your mom may say she doesn't want to open a box this year, there's nothing like a stunning piece of jewelry. This Ashleigh Bergman Collective x Ariel Gordon Jewelry Turquoise Heart Signet Ring, $1,995, is a special piece that'll make her think of you every time she wears it. However, if your mom is more of a minimalist, opt for J.Hannah's Objet Pendant, $320, which can hold a meaningful mini keepsake inside.
Continue on to see and shop 22 gifts that'll have your mom smiling this holiday season.