22 New Serums To Try For Fall, No Matter What Your Skin Concern Is
Anna Webber/Getty Images Entertainment/Getty Images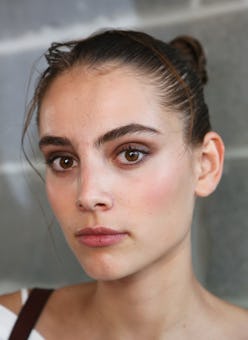 Ingredients like vitamin C and retinol are popping up in the best new face serums for fall 2019 — essentials necessary for any season. But the selections from brands like Tata Harper and Saint Jane also contain buzzy ingredients that can easily replace your go-tos.
As a refresher: "the three ingredients that are a must in any serum include retinol, vitamin C and vitamin E," Dr. Gary Goldenberg, M.D., an assistant clinical professor of dermatology at The Icahn School of Medicine at Mount Sinai Hospital in New York City, says. "Retinol contains the most scientific data to prove that it has anti-aging properties, helps with fine wrinkles and lines, texture, pigmentation, and overall skin appearance. Vitamins C and E are the best antioxidants for your skin. Both help cells repair sun damage, pigmentation, and texture," he says. No matter what serum you choose, this fall also look for one that also has anti-aging properties and help with wrinkles, lines, skin tone, pigmentation, and texture, Dr. Goldenberg notes. And of course, moisture is of optimal importance as the weather turns — so hyaluronic acid, lactic acid, glycerin, and ceramides are among ingredients to look for as well.
Aside from those traditional staples, Dr. Devika Icecreamwala, M.D., a board-certified dermatologist and founder of Icecreamwala Dermatology in Berkeley, California, notes that licorice root and pro-xylane are also buzzy ingredients to look out for. "Licorice root and pro-xylane help boost hyaluronic acid levels in the skin, which leads to more firm, smooth, and plump skin. I particularly like these ingredients because they are derived through an environmentally-efficient process and are biodegradable as well as non-eco-toxic," she says.
No matter if you need to repair sun damage, fight textured skin, or treat wrinkles, this fall there's a new serum to combat any issue. Ahead, see the best serums that derms approve for the new season.
Shop New Face Serums