The Best Wedding Shoes To Buy If You Can't Stand The Thought Of Wearing Heels All Day
Magda Butrym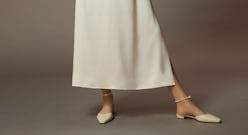 Regardless of whether you've been planning it your whole life or you made the decision on a whim, your wedding day is a big day. And since it often entails some rushing, hopefully dancing, and probably a whole lot of standing around, you don't want to ruin it by wearing shoes that make your feet hurt for hours on end. So while you may be tempted to splurge on those pretty heels, know that there are a lot of flat wedding shoes out there that may end up being a lot more comfortable — and don't sacrifice an ounce of style.
And yes, there's an option for every kind of bride out there, too. Want something that reads like a heel? Manolo Blahnik's ballerina flats for $1,170 will give the the same effect as that blue version you've been eyeing on every wedding photographer's Instagram, sans the pain (and with some added glamour). Or choose a sleeker pair that's still decidedly elegant, like Malone Soulier's $545 white mules from Shopbop.
For something that feels less "bridal" for those non-traditional brides, forgo the white shoes for some statement-making footwear. Rochas' Flora Crystal-Appliqué Lace Slides for $665 are undeniably romantic, but feel unexpected thanks to the black lace and pretty flowers on top. And if you just want to have fun, Sophia Webster's Bonnie Flats are $350 worth of eye-catching metallic silver and bows that will make for a playful addition to whatever you're wearing on the big day.
You don't have to settle on over-the-top "wedding shoes," though — in fact, you may want to spend your money on a pair so chic, you'll wear them well after the day's over. Magda Butrym's Greece Shoes fit the bill, and are versatile enough to go from a wedding gown to jeans. As are Emme Parson's $395 sandals — the color gives the perfect "something blue," but they'll also just look pretty with a mini skirt and crop top on your honeymoon.
You don't have to go with heels for a wedding day look that stuns. If you want to wear flats, there are plenty of options that'll look equally as pretty with your carefully-chosen look. So without further ado, below are 21 flat wedding shoes to shop. Good luck choosing just one.
Shop Flat Wedding Shoes