A Celebrity Hairstylist Says These Luxury Hair Products Are Actually Worth The Money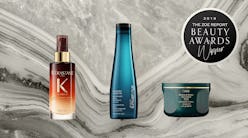 Effortless, undone hair has for the most part reigned supreme since the '90s, which feels somewhat cruel because for most of us, leaving the house without looking like a long-lost member of The Muppets actually requires some, well, effort. Thankfully, the same brands driving the carefree-but-better trend have also been turning out life-changing new hair products that make this seemingly unattainable goal a little more realistic for all of us. Whether it's a mask to help hydrate textured hair or a color-protecting shampoo to ensure those faux sun-kissed highlights stay fresh, it's now possible to support, protect, and actually cultivate the hair you've always wanted. And even better, most of the newest products are designed to minimize the amount of time you spend maintaining your mane, while maximizing results through high quality ingredients and multi-tasking formulas.
For The Zoe Report's second annual Beauty Awards, TZR editors spent months testing out the buzziest new haircare products of the year (masks, mists, you name it), while recording which ones they loved most, and which ones fell a little flat. We also tapped celebrity hairstylist Lacy Redway to tell us exactly what new launches she's loving most this year — from the best fade-fighting shampoos and conditioners to her go-to tool for adding volume. The result? A list of six tried-and-true products that represent the best in 2019 haircare. Below, check out our list of winners, and see what our expert and editor judges had to say about each product.
Briogeo Color Me Brilliant Collection
"I love this vegan product with safe, hair-strengthening ingredients like mushrooms and bamboo that won't cause your color to fade. It's ideal for girls with curly or textured hair that is color treated. I think it's smart for brands to discover safe and natural ingredients to assist with our hair needs." — Lacy Redway, hairstylist
Virtue Labs Create Volumizing Primer
"For me, hairstyles are built from the foundation up, so this primer allows me to create the volume I need from the very beginning, which ensures the look won't collapse. It's lightweight, which won't weigh hair down, and leaves room for me to continue building my foundation with other complementary products." — Redway
Charlotte Mensah Manketti Oil Conditioner
"[The] smell is great. It left my hair moisturized, but not oily." — Shelby Hyde, TZR Shopping News Editor
Oribe Moisture & Control Deep Treatment Masque
"Hands down, this is one of my favorite masks for my hair texture. It makes my hair manageable after a few days of bad hair care. The whole collection is spectacular. My only note is the scent — it can be super strong." — Mecca James-Williams, BDG Contributing Senior Style Editor
Shu Uemura Muroto Volume Lightweight Care Shampoo For Fine Hair
"I like it a lot! It smells nice and doesn't weigh my hair down." — Lauren Caruso, TZR Site Director
Kérastase Nutritive 8H Magic Night Serum
"[It has a] very milky quality. I don't love overnight masks because I don't wear a towel or cap to bed (or even own one), but I did use [this] as a shorter-term mask in the shower, and it made my hair very silky." — Aemilia Madden, TZR Senior Fashion Editor