The High-Impact Workout Move You Can Do In Front Of The TV
LightField Studios/Shutterstock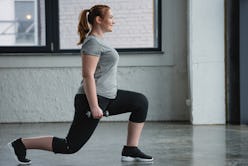 In this day and age, with the rising popularity of trendy boutique workout studios and souped-up gyms, it seems like fitness is at the height of popularity. However, in looking at some data and the greater U.S. population as a whole, it seems people are still not getting enough exercise. For many, the hustle and bustle of daily life can take priority over health and wellness — running to spin class or hot yoga is a luxury many just can't seem to afford time-wise or money-wise. However, thanks to a few easy at-home workout moves, you can easily create a solid customized fitness routine in the comforts of your own living space.
Federal physical activity guidelines recommend a minimum of 150 minutes of moderate exercise or 75 minutes of rigorous exercise a week. That seems easy enough to achieve, when the average workout class is about 60 minutes long, right? Well, according to a new report from the Centers for Disease Control and Prevention's National Center for Health Statistics (NCHS), it's not. The report states that only 23 percent of adults ages 18 to 64 are reaching this goal. thirty-two percent met one but not both, and almost 45 percent did not hit either benchmark.
If you fall into the latter percentage group, fear not. A few simple workout moves (with little to no equipment requirements) can help turn things around. Ahead, three fitness pros were tapped to offer their favorite at-home workout moves. Take a look and feel free to mix and match until you find the routine that gives you a full-body workout at your own convenience.