17 Gift Ideas For Lifelong Friends, Because You Can't Get Them Just Anything
Chillhouse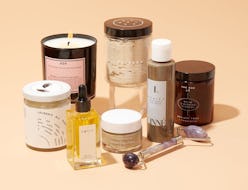 You probably know your best friend better than you know yourself, so finding a gift for them doesn't sound like it would be that difficult. But honestly, when you're trying to find a meaningful gift for anyone right before the holidays, the stress can make it tough no matter how well you know them. Sure — they'll appreciate anything you give them, but it always feels better to give your friend a thoughtful gift you can tell they love the minute they open it. And yes, it is possible to find gifts for your old friend with only a few weeks to go; in fact, there are endless options just waiting for you to scoop up and prove to your friend just how much they mean to you.
Let's face it: One of the best activities to do with your best friend is relax on the couch and watch Netflix together while catching up on your lives. And thankfully, there are plenty of great gifts out there to help you do that, but better. The AMO Lounge Bottoms for $105 are the perfect example of that; they're cute-but-relaxed for easy lounging, and they come with an elastic waistband with "You Are Loved" written on them as a sweet addition.
If you're overdue for a catch-up and want to upgrade your marathon for a full-blown spa night, though, don't stop at sweatpants. Chillhouse offers a $330 self-care starter pack with all the essentials needed for an evening of catching up and blissing out. Add a $65 super-soft robe from LIVELY to the mix and you've got a gift that'll make them happy well after the holidays are over.
Not able to get together any time soon? Skip the relaxing gifts and instead send them something that's sentimental to remind them of you even when you're not there. Zahava's stunning $430 Mini Gold Atlas necklace will let you personalize it with a diamond on any spot on the tiny globe — a special addition that's subtle but thoughtful, and can't not make them smile.
Of course, if your friend isn't really a jewelry-wearer, that's fine — you can still get them a gift personalized just for them that doesn't involve any diamonds. If they're due for an upgrade on their phone case, gift them this pretty customizable option from TDE for $50 with their initials or even an inside joke between the two of you. Plus, you can use it as a way to remind them to answer your phone calls more often, too.
When you know each other better than you know yourselves and there are too many years and memories you've shared to count, you want to give your friend a gift that'll make them smile and show how much you care. Ahead, 17 present ideas that'll help you do just that.