The New Bag At Need Supply That's Already Making Waves On Instagram
Valet Studio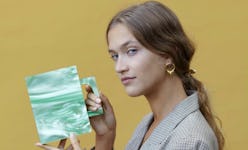 Remember making that New Year's resolution to save money? You might want to put that one off until next month when you take a look at all the new bags at Need Supply. The fashion-girl favorite retailer has an impressive lineup of fresh styles that are sure to take your look to the next level. From buckets and baguettes to top-handle bags, Need Supply is the perfect place to begin shopping the top handbag trends of the season.
If you've ever looked at a photo from an event and wished you'd only worn a more impactful bag, now is your chance to secure a style to take your outfits up a notch. Need Supply's new arrivals are filled with a diverse group of handbags from designers like Saks Potts, Trademark, and Danse Lente. And, it only takes one scroll through the selection of styles to see they'll be the latest crop of statement-making bags to flood your Instagram feed.
Already making a splash on social is the minty green resin bag from Valet Studio. The marriage of the top-handle design with the pastel marble-effect will easily bring a dose of whimsy and playfulness to any outfit. And, if you're looking to go bold, opt for the shape in a bright red. The bag's polished, structured silhouette makes both color iterations an easy to transition from day-to-night, allowing your $269 to go a long way.
There are plenty of styles just a click away for those shoppers seeking ladylike bag shapes. First, take a look at the selection of sculptural styles from Danse Lente. Included in the mix from the London-based brand is an eye-catching accordion bag with a delicate thin shoulder strap as well as a photo-worthy geometric mini top-handle.
After a small shoulder bag? From the looks of Need Supply's latest offering, the resurgence of the baguette trend is here to stay. Shop two trends in one with Saks Potts' dyed mink tiger-stripe bag, or go for the same crescent moon shaped style in a baby blue hue; both ring in at $655. Saks Potts is no stranger to making waves on Instagram with its highly-coveted outerwear, so there's no doubt that these bags will be scooped up by the fashion set ASAP.
Continue on for 16 standout styles you won't be able to resist adding to your shopping cart.