16 Thoughtful Gift Ideas For Every Stage Of The Relationship
Alberto Reyes/Shutterstock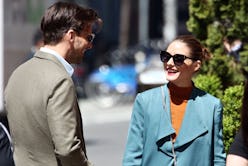 Gifts for your significant other can be seriously difficult to find. And for the holidays, when it's down to the wire and you still want to get them something that shows how much you love them? It's a problem many have, but few know just how to tackle. Plus, there's your status to factor in, because where you are in your relationship always plays a big role in what you get them. You're certainly not going to get a new partner the same kind of gift you'd get a spouse or someone you've lived with forever — which means the search for a gift for your significant other will differ drastically depending on your situation.
Maybe you just made it "official" a few weeks ago, and you're looking to keep things simple. In that case, a small gift (that's still thoughtful) will do. Everyone likes to be cozy, so you can't go wrong with an $85 CloudKnit Hoodie from Outdoor Voices, which combines comfort with a low price tag for a foolproof gift. And speaking of cozy, a $36 Fireside Candle from Apotheke fits that bill, too, and anyone who enjoys a heavenly scent is sure to love it.
Made it to one year together? That calls for presents a bit more personal. A simple handmade necklace, like this $340 stunner from Natasha Schweitzer, is a gift that'll never fail — and never go out of style. And if dinner at home together is kind of your thing, a sous vide cooker, $199.95, will add a new technique to your cooking nights.
Of course, committing to each other for life is a whole different ball game — which can sometimes mean the gifts are, too. If you just tied the knot, you're probably still working on making your home the perfect space for both of you to start the rest of your life together. Chances are you've already got all the necessary furniture, so splurge on something fun, like a bar cart, that'll provide extra storage and a dash of glamour to your space. And if you're big on hosting parties, it'll make serving drinks so much more fun.
No matter where you are in your relationship, you probably want to give a gift that proves how much you care. Keep scrolling for 16 presents that'll do the trick for every stage and status.
A Couple Weeks In
Just Celebrated Six Months
Made It To One Year
Been Dating A Few Years
Recently Moved In Together
Just Married
Married For A Few Years
Lost Track Of How Long You've Been Married