15 Under $40 Fashion Month Beauty Staples That Top Makeup Artists Love
@gilbert_soliz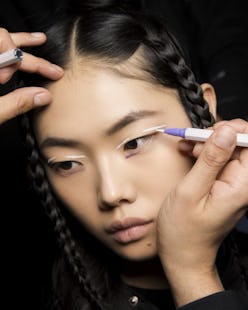 It'd be reasonable to assume that since professional makeup artists have access to the best beauty products in the world, their personal collections must be packed with expensive, high-end must-haves. I hate (read: love) to break it to you, but that's so not the case. The proof is in the surprisingly affordable beauty products that top-tier MUAs keep in their kits during runway season.
"My go-to moisturizer is Neutrogena Oil Free Moisturizer, and has been for years," Sil Bruinsma a makeup artist who's created beauty looks for Louis Vuitton on Givenchy, tells The Zoe Report. "Models always ask what I'm using, since it feels very light and is water-based." You heard it here first: The models at Fashion Week are wearing $10 moisturizer under all of that luxury clothing. Bioderma Cleansing Water is another wallet-friendly pick that nearly every backstage makeup artist has on deck. "It's the best makeup cleansing water you can buy," Katie Jane Hughes, who's keyed shows for Libertine and Milly, tells TZR. Gilbert Soliz, a global artist for Marc Jacobs Beauty, agrees, calling the $15 bottle "the models' favorite remover post-show."
Ahead, a look at the no-frills skincare and makeup products set to make an appearance at Fashion Month (and, let's be honest, in your bathroom cabinet).
Shop Fashion Month Beauty Products