The Romantic Date Night Dress That Won't Leave You To Freeze This Valentine's Day
Cornel Cristian Petrus/Shutterstock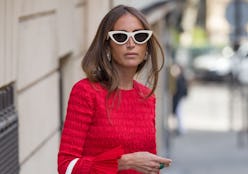 You already know Feb. 14 is cold. It's obviously hard to ignore, and even harder to plan a romantic look when you have to cover yourself head-to-toe in order to maintain even a semblance of warmth. It's not impossible, though — it just takes the right winter date night dress with enough coverage to keep the elements from making you freeze to your core.
The best place to start is with a long-sleeved style, especially if you're not into wearing a jacket or coat over your carefully-thought-out dress. It's also helpful to stick with pieces that hit at or below the knee so that you're not relying on tights alone to keep your legs warm — because when temperatures hit below 32, which they often do mid-February, there's only so much those can do to keep you from shivering all night.
That's a lot of requirements for a dress, of course; that said, that makes it even more fun to find a dress that's both warm and chic, because designers have to get creative to come up with something that checks all of those boxes — and this season, they didn't disappoint.
The first one you should turn your attention to? Markarian's $3,395 pink dress. Get ready to drool over the combination of dusty rose silk and a thick red waistband, which epitomizes the romance of the holiday in the most elegant possible way.
Premme's Zoey dress, $109, takes a completely different approach, but still brings a sultry shine and a sophisticated navy blue color to a pretty silhouette. It's decidedly more relaxed, which makes for a dress that's not only warm, but comfortable, too — and what more could you want on an evening out with your significant other or closest friends?
Not everyone wants to invest in a dress that solely exists for nighttime wear, and if that's you, Toteme is the answer. The brand's $560 Perlo Dress, which is super chic and comes with ultra-warm faux fur at the ends of the sleeves, can easily be dressed up or down so that you can wear it well after Feb. 14 has passed. And though it comes in a striking red shade, Nanushka's sleek sweater dress, which is currently on sale for $262, looks just as stylish over jeans on any given day as it does with heels on Valentine's Day.
The temperatures may be in the teens this Valentine's Day, but even if they are, you don't have to freeze. The 14 dresses ahead are proof that style and warmth aren't mutually exclusive, so keep scrolling to find the one that'll keep you cozy all the way through your next date night.